Posted Tuesday, December 21st, 2010, by rob-ART morgan, mad scientist
Someone described Bare Feats as "the site with the little cartoon computer with the feet." As an sometimes cartoonist, I've roughed out many ideas with pencil and ink over the years. A few sold and got published. Most of them ended up in a dusty sketch book or a forgotten file folder. I've resolved to gather them all up, tweak them, and preserve them in digital form. I need a few new or improved tools to help me along. Here's what I've gathered so far this month.
LIGHT BOX
The first thing I did was to replace my homemade plexiglass fluorescent bulbed light box with a new LightPad from Artograph. It's not only lighter and thinner, but the LED lamps provide an even illuminated surface -- making tracing a pleasure.
Tracing enables me to adjust the proportions and positioning of characters in a rough cartoon sketch. If it was originally done in pencil, I can trace using ink. Yes, I know there is a way to do this on the Mac but some things come out better when you use actual pen and actual ink. "I admire its purity." And like many artists, I have a diverse collection of art pens and inks to accomplish this.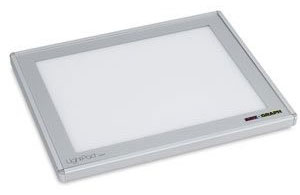 SCANNER
Whether I redraw or trace the cartoon using the light box or decide it's good enough as is, my next step is to scan it into the Mac for safe keeping and so that it can be enhanced with color and special effects.
For years I used an Astra FireWire scanner. When they no longer had software support for the Mac, I used VueScan software. I haven't paid too much attention to scanner evolution. I currently use a Canon MP620 all-in-one printer that includes a scanner function. It does a good job for my needs. However, if you have found some awesome scanner, I'd like to hear about it.
DRAWING SOFTWARE
In the early days, I used brushes, Luma water colors, and FW colored waterproof ink to colorize cartoons. I still do to finish certain drawings for framing. Yet, by scanning the line drawing, I can use my favorite drawing app, Corel Painter, to add color, texture, patterns, and special effects.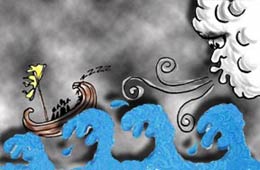 One effect is what I call "diorama" or "shadow box." I'll move one or more objects to different layer and add a drop shadow. That's easy to do with Painter (and Photoshop).
Drawing software like Painter gives me the ability to duplicate and rotate objects. For example, on one occasion, I wanted to depict a man hip deep in fish. So I drew one fish, duplicated, flipped, and/or rotated it over and over until I had a boat full of fish. Can you imagine the tedium that saved?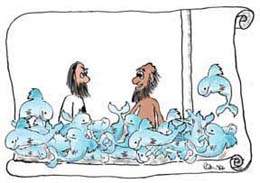 There are many other things that Painter can do such as generating leaves and clouds. But a very basic thing is the ability to apply color evenly. That was not the case with my brushes and colored inks. Painter also gives me an extensive color palette without having to mix my own.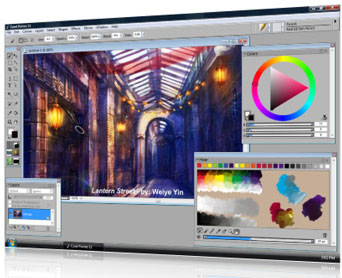 DRAWING TABLET
A drawing tablet essential for cleaning up the scanned cartoons as well as for creating original sketches.
I've had a drawing tablet of some kind almost as long as the Mac has existed. My first was a Summagraphics with non-pressure sensitive surface. Connected via serial port, it had trouble keeping up with the stroke of the tethered drawing pen.
More recently I've been using a Wacom Intuos4 Large drawing tablet that is pressure sensitive (2K levels) and tilt sensitive (60 degrees) with a wireless drawing stylus. With those features and software like Painter, I am able to sketch as though I'm using one of my soft pointed ink pens or sable brushes.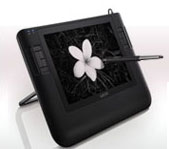 The Wacom Cintiq tablet is intrigues me in that you are actually drawing on the screen. I've tried two different samples of the Cintiq in the past. They were thick, heavy and used VGA video connection. This month I decided to give the Cintiq another try. The newest model is much lighter and thinner than the older models, thanks to an external power brick. The video connection is DVI (which which I adapted to a Mini DisplayPort).
I have to admit it is more intuitive for sketching compared to a the Intuos tablet that's mapped to the Mac's main screen. However, the model I tried (the 12WX) had a 6 x 10 inch drawing area (1280x800). That's a big step down from my Mac's 27" screen. I felt confined having to use the same small screen area for floating palettes and my drawing. Then again, my alternative is the Intuos4 tablet's 8 x 13 drawing area -- not much bigger than the Cintiq's though it can be mapped to the whole 12 x 23 inch Mac screen.
I noticed that there is a slight lag when using the Cintiq, but if you ignore the cursor, you'll do fine. At $1000, it costs twice as much as the Intuos4 Large. However, you aren't just buying a drawing pad. You are buying an extra LCD screen.
NO NEED TO GO BROKE
There are some great deals to get you started using Painter. Not only are free 30 day trials available (fully functional), but you can start with Painter Essentials at $50 and later upgrade to Painter 11. Also, if you are thinking of buying a drawing tablet, you can get Painter 11 for only $99 with a purchase a Wacom tablet.
As for tablets, there are plenty of used ones and low priced new ones ($49 Bamboo) if you are just getting started. If you are a professional, then the investment in a larger, more expensive tablet is well worth it, IMHO.

Feel free to email your thoughts to . And follow him on Twitter @barefeats
WHERE TO BUY DRAWING TABLETS and/or DRAWING SOFTWARE
Order direct from Corel and get Painter 11 for $99 with a purchase a Wacom tablet.
Wacom tablets and Painter 11 are also available on the Apple Store but not with a discount.
WHERE TO BUY LED LIGHT BOX
Amazon is a good starting place to search for discounted LED light boxes in various sizes.
WHERE TO BUY APPLE PRODUCTS
When you purchase Apple USA products, please CLICK THIS LINK or any APPLE BANNERS on this site. It's a great way to support Bare Feats. since we earn a commission on each click-through that results in a sale.