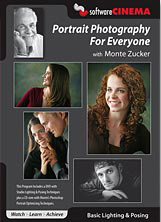 Portrait Photography For Everyone was the best two hours of portrait education that I've sat through! Finally, a real educator, Monte Zucker, delivered the goods on the BASICS of portraiture. Add this to the fact that I can learn at my own speed and take it with me, I love digital learning tools. Software Cinema gives me that opportunity with instructors that are well-known in the photography community. With this two disc training, I've been able to take my portrait work to another level. And by having the same exact photographs available with the lessons, I was able to do exactly the same Photoshop enhancements as Monte was doing in the lessons.
Portrait Photography for Everyone includes a DVD Video program of Monte's Studio Lighting & Posing Techniques and also includes an interactive CD-ROM with Monte's Photoshop Portrait Optimizing Techniques with the feature photograph files included.
Simple lighting patterns are demonstrated in a real life studio setting and with illustrations for lighting placement that make quality predictable portraits. Monte sets the stage for learning portrait basics by using one lighting pattern, two poses and three camera positions... in the studio and by simply using available lighting from a window.
HINT: Don't run out and buy a lighting system until you try the window technique.
Portrait Photography For Everyone
DVD Video - The Basic Lighting and Posing Techniques
Time 56 minutes
• Introduction
• The Basic Pose Works on Everyone
• Two Ways of Bringing People Together
• Profiles are Always in the Feminine Pose
• Window Light Portraits
• Another Look at the Studio Setup
• A Bonus Engagement Portrait
• Review of the Lighting Techniques
CD-ROM - Photoshop Portrait Techniques for Everyone
Interactive CD-ROM with Monte's Photoshop Portrait Optimizing Techniques.
Time 1hour, 3 minutes
• Session 01 : Retouch & Optimize Cathy's Full Face Portrait
Learn Monte's process of retouching and building optimal contrast for the perfect print. See the easy technique for adding a vignette which forces attention to the face.
• Session 02 : Retouch & Optimize Cathy's 2/3 View Portrait
Similar retouching and techniques are used for this second portrait plus a vignette finishes off this elegant portrait. Study and practice his system.
• Session 03 : Retouch & Optimize Ashley's 2/3 View Portrait
Retouching the face and optimizing the hair and shadow density really take this portrait into a higher level.
• Session 04 : Retouch & Convert Ben's Portrait to B&W
Watch how Monte changes this color portrait into a classic Black & White, embellishes with a vignette and uses strategic retouching.
• Session 05 : Monte's Review of Lighting Patterns
Get the final review of the basic poses and lighting patterns.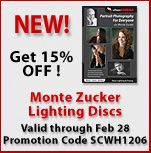 Recommendation
This was exactly what I've been waiting for... a glimpse into a professional studio with the photographer telling me what he's thinking about while working with a client and then how he edits the photo in Photoshop. Gotta get this training!
Cost: $139
Get 15% OFF through February 28, 2007
Promotion Code SCWH1206

Order from Software-Cinema.com
Adobe Creative Suite 3 Master Collection
Express your ideas in print, on the web, in film and video, and on mobile devices!
Order Now!