Photoshop Stress Test
(Updated 5/2/98 to include the G3/300 Minitower; Created 5/15/98)

© 1998, 1999 Rob Art Morgan, editor of BARE FEATS
Gotta Question? Comment? Want to advertise?
Email Rob Art at rob-art@barefeats.com

QUESTION: Which is faster doing Photoshop crunching,
dual 604e's or a single G3?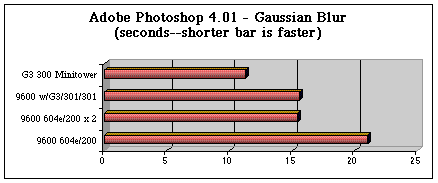 ANSWER: The dual 604e's are not "slackers"
when it comes to special Multiprocessor functions
but they are no match for the G3 in general "non-MP" functions.

TEST NOTES
The Photoshop "stress" test involved two filters:
a) Gaussian Blur (30 pixels)
b) Motion Blur (10 degrees, 200 pixels)
I used Photoshop 4.0.1 and set it to 120MB application size to minimize scratch disk activity during the test on the 26MB document. I used a stopwatch to measure the time from the clicking of the "OK" button until the progress bar window disappeared.



I threw in MacBench CPU to dramatize the performance of "non-MP" applications.

The Power Macintosh 9600 test unit had 416MB of interleaved memory.

The Apple dual processor daughterboard had two 604e's running at 200MHz each.

The G3 daughterboard results came from a PowerLogix PowerBoost G3/275/275 daughterboard with the rotary dials set to 89 hex (300.60MHz) and 1MB backside cache set to 1:1 (300.60MHz).

This update contains results from the new Apple G3/300/150 Minitower with 1MB backside cache (2:1 ratio). Note the faster data bus speed (66MHz) seems to work in its favor over all other configurations.

The single 604e results were from an Apple 200MHz daughterboard.


Photoshop is a product of Adobe Systems. MacBench is a product if Ziff Davis.

RETURN to bare feats main page
© 1998, 1999 Rob Art Morgan, editor of BARE FEATS
Gotta Question? Comment? Want to advertise?
Email Rob Art at rob-art@barefeats.com