CPU (& FPU) crunching...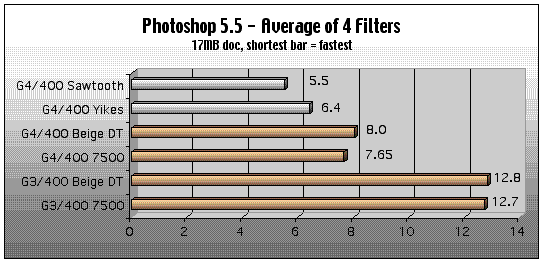 Reaction: Photoshop "likes" bandwidth and memory bus speed. The Graphite G4's are most impressive.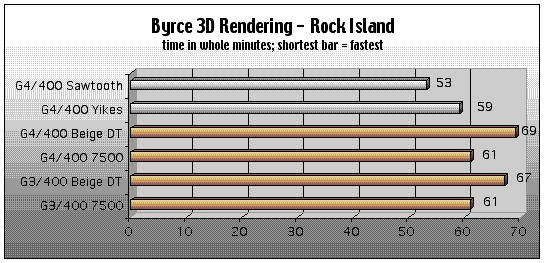 Reaction: The 7500 surprised me. Not bad.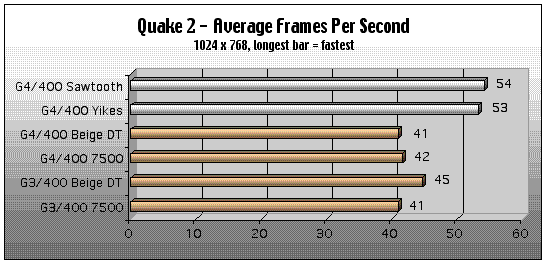 Reaction: If your main performance need is 3D gaming, the "older" Power Macs with G3/G4 upgrades and Voodoo3 3000 boards are plenty fast. But for ultimate frame rates, the "real" G4 minitowers are significantly faster. Note the Sawtooth's Voodoo3 AGP 3D graphics accelerator didn't make it faster than the Yikes' PCI 3D graphics accelerator.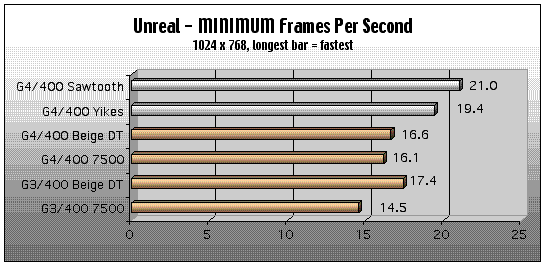 Reaction: Again, any model of Graphite G4 runs comfortably beyond the "jerky" threshold. (Any frame rate lower than 16 fps appears jerky to the naked eye.)
Remember, all four machines used an ATA/66 controller and Seagate Barracuda ATA/66 drive in all four machines.



Reaction: I'm impressed with the Beige Desktop's performance. Encouraging if you are upgrading. The PM 7500 lags behind the others. Way behind.