Does Size Really Matter?
© 1998, 1999 Rob Art Morgan, editor of BARE FEATS
Gotta Question? Comment? Want to advertise?
Email Rob Art at rob-art@barefeats.com
Does it matter how big the backside cache is on a G3 cpu board? Does cache ratio make that much difference? Does motherboard cache add speed?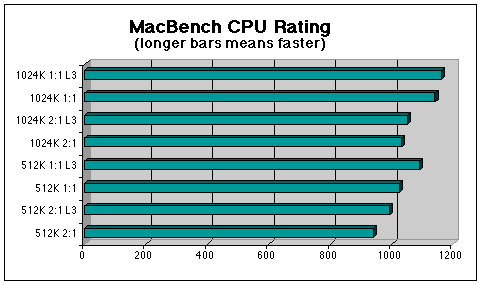 These 8 variations were done with the same cpu card, a PowerLogix PowerForce G3 275/275 set to run at 300MHz. The cache utility allows you to play "what if" with various cache sizes and ratios. So that's what I did, including removing the motherboard cache. In this test, there were incremental improvements to bigger, faster cache settings. There was a 24% advantage to using maximum cache settings.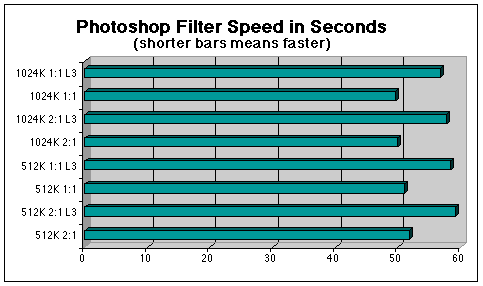 The Photoshop test results were a surprise. REMOVING the motherboard cache significantly improved performance at all settings. Photoshop "jockeys" take note. However there was only a 4% gain to using the 1024K cache at 1:1 over using the 512K at 2:1.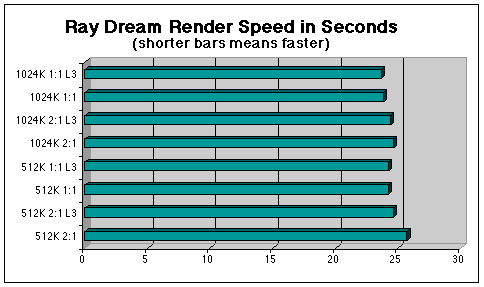 For doing 3D Model rendering, there was a maximum of 8% advantage using the larger, faster cache settings.

Conclusion: If you have the larger, faster cache, you will see an average 12% gain. But expect to pay at least 55%* more to get it!

* The Bottom Line RailGun G3 250 with 1MB 1:1 cache costs $699. The PowerLogix PowerForce G3 220 with 512K 2:1 cache costs $450.
The most important factor in choosing a G3 upgrade is maximum clock speed, not cache size or ratio.
If you are a Photoshop user, pull out the old L2 cache in your motherboard... if you can.
There is more to speed than CPU.
If you are sticking a G3 card in an older Power Macintosh (6100, 7100, 8100), there is something you need to know. The CPU will go like a bat out of hell, but the GRAPHICS (scrolling, zooming, redraw) will not come close to matching the prowess of the new G3 Desktops and MiniTowers. Some boast an AV pass-through adapter but until I test one or see someone else's results, I can't comment.
If you have a 7300, 7500, 7600, 8500, 8600, 9500, or 9600 you're in good shape graphics wise. A G3 upgrade board boosts the 2D graphics speed to match that of the new G3 systems. For 3D acceleration and even more 2D speed, get a graphics accelerator for one of your PCI slots.
As for the Power Mac 4400 and PowerBook 1400 upgrades, there's no way to truly speed up the graphics. If graphics speed is important to you, you might consider selling your old machine instead of pumping $$$ into it only to be depressed when you experience sluggish scrolling and redraw.
Test Equipment
The Apple Power Macintosh 7500 test bed had 176MB of RAM, 4MB of VRAM, and a PowerLogix RapidCache 1MB L2 cache on the motherboard. (The RapidCache becomes "L3 cache" when a G3 upgrade is installed.)
The PowerLogix PowerForce G3/275/275 comes with adjuster dials which can be set from 120MHz to 360MHz. For my tests, I used the 89hex setting. The G3 Cache Control utility (1.2.3) was used to adjust cache size (512K & 1024K) and ratio (2:1 & 1:1).
System was Mac OS 8.1, minimal extensions, no virtual memory, no Speed Doubler, no Ram Doubler, no MathLibMoto.
MacBench 4.0 is a product of Ziff-Davis Publishing. You can download the CPU, FPU and DISK tests but the GRAPHICS require the CD-ROM.
The Ray Dream Designer test was to measure the seconds it took to render the Countach document. I used a stopwatch to time it from the opening of the render window until the progress bar disappeared. Ray Dream Designer is a product of Metacreations. A demo copy is available at their site.
The Photoshop Filter test was the combined score of Unsharp Mask (100%, 30 pixels, 0 levels), Motion Blur (10 degrees, 200 pixels) and Gaussian Blur (30 pixels) on a very large Photoshop document (30MB). Photoshop application size was set to 120MB. Visit Adobe's site for a free demo copy of Photoshop 4.0.1.
Click here for more Speed Test Results
© 1998, 1999 Rob Art Morgan, editor of BARE FEATS
Gotta Question? Comment? Want to advertise?
Email Rob Art at rob-art@barefeats.com