Should I Pump Up My 6100?
Or Sell It & Get An iMac?
(9/1/98)
© 1998, 1999 Rob Art Morgan, editor of BARE FEATS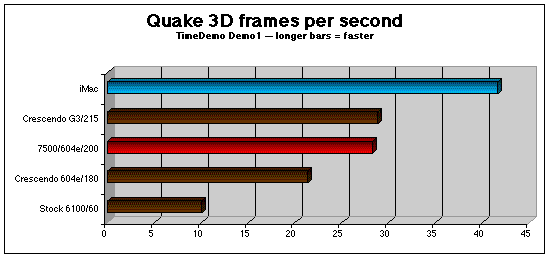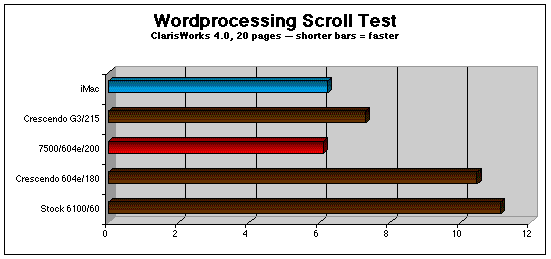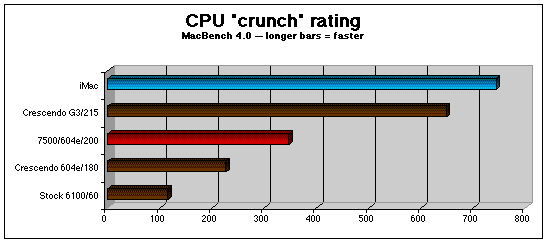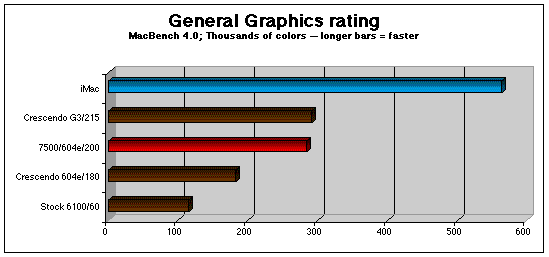 ANSWER: At $439*, the Sonnet G3 board is tempting, but based on the graphics** performance,
you might consider selling the 6100 and
saving up for a $799 iMac***.
* Price of the Sonnet Crescendo G3 for non-AV 6100's is $439 at Other World Computing. The Crescendo 604e goes for $199.

** The graphics speed (zoom, scroll, redraw) of the 6100 with Sonnet boards increases but not nearly enough the match the iMac. This is a classic case of bottlenecks in older technology. A G3 board does not an iMac make. The iMac has a wider system bus (64 bit versus 32 bit), faster system bus (66MHz vs 30MHz) and built-in 2D/3D acceleration (RAVE LT chip vs "nada"). Observe that the Power Mac 7500 with a 604e equals or beats the graphics performance of the 6100 with a G3. Again, it's bus width and speed.

*** If you sell your 6100 including monitor and keyboard for $500, the current average price (according to United Computer Exchange), your net cost for the iMac will be $799 or less (see Absolute Mac for best sources).
Reader Comments
One reader pointed out that if you have a large investment in peripherals (external SCSI hard drive, SCSI Zip drive, SCSI scanner, 17" monitor), you may want to stick with the 6100. Good point. But here's a counter point from another reader:
"As a counter to all those who automatically think a large peripheral investment means keeping your 6100. Compare my 6100/60 to the iMac I just upgraded to... including the peripherals. In order to get my 6100 up to iMac levels, I'd have to buy:

1. 48M of memory (my reseller added 32M free on my iMac, compared to the 6100's 16M)
2. a new monitor (15" compared to the old 14")
3. a graphics card so I can display resolutions larger than 640X480
4. a new CD-ROM drive (my 4x Apple 600i wasn't cutting it any more)
5. a larger hard drive (the iMac's is eight times larger than my 6100's)
6. a faster modem (14400 makes you want to tear your hair out)
7. MacOS 8, MDK, ClarisWorks 5, and Kai's Photo Soap
and, finally, a funkycool plastic case to put it all in..

"Graphics speed is not important." I disagree. Half of everything the Mac does involves screen operations. Even mundane things like word processing, spreadsheets, and Internet browsers can benefit from faster scrolling and redraw.
"The G3 upgrade won't support next years Mac OS X, but iMac will." That's the official Apple position but the indication from third parties is that the G3 upgrades will run Mac OS X.
Test Procedures
For the ClarisWorks 4.0 scrolling test, I created a 20 page document containing the sentence "The Quick Brown Fox Jumped Over The Lazy Dogs" repeated over and over in paragraphs of 10 sentences in 12 point Helvetica font. Using a stopwatch, I timed how long it took to scroll from the beginning to the end of the document while holding the mouse button down with cursor over the scrolling arrow.
Normally, I do the Quake test in 640 x 480 mode, but due to the dismal performance on the stock 6100, I used 320 x 200 mode (double pixels) for this go round. The normal version of Quake was used since the 6100 does not have RAVE or 3Dfx acceleration and the iMac didn't have enough VRAM to use the RAVE version.
MacBench 4.0 CPU and General Graphics tests were run. For the General Graphics test, the color depth was set to thousands.
Test Equipment
The Power Mac 6100/60 came with 40MB of RAM, 256K L2 cache, no AV card (640K of DRAM used for video memory).
Two Sonnet Technology PDS boards were used to accelerate the 6100:
a) The Crescendo 604e 180MHz (256K motherboard L2 cache still installed)
b) The Crescendo G3 215MHz with 512K backside L2 cache (motherboard cache removed)
The iMac had a G3/233 with 32MB of RAM, 512K backside L2 cache, 2MB VRAM.
The Power Macintosh 7500 had a 604e/200 with 56K of RAM, 256K L2 cache, 4MB VRAM.

System was MacOS 8.1
Extensions turned on included Apple CD-ROM, Control Strip, QuickDraw 3D 1.5.3, QuickTime 3.0, Shared Library Manager, SystemAV, and required graphics accelerator drivers
Virtual memory was turned OFF; (NO Speed Doubler & NO Ram Doubler)
Resolution was set to 640 x 480 x 16 for all tests
A BIG ALOHA to Sonnet Technology for providing PDS boards.
© 1998, 1999 Rob Art Morgan, editor of BARE FEATS