TRAINING: "How To Wow -
Best of Photoshop CS2"
with Jack Davis
Here's what I learned in the six hours of "How to WOW -- with Jack Davis":

Session 01: Photoshop CS2 Interface (21 minutes)
Found this session to be informative and full of hidden features of Photoshop CS2 -- elementary, but worth the time to view.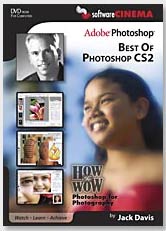 Session 02: Adobe Bridge (52 minutes)
Adobe Bridge has features that save me so much time. These hidden factoids will make file saving and organizing in the Bridge a breeze.

Session 03: Camera Raw 3 (46 minutes)
Now's the time to experiment with Camera Raw -- especially if you own a Nikon D70 camera. It seems intimidating at first to see all the informational items displayed, but have courage. With this session all the mystery is presented in practical methods -- so powerful and timesaving!

Session 04: Lens Correction Filter (10 minutes)
The Lens Correction Filter is a must for any photographer! You won't believe how it can improve any photograph and give you that "edge" when using Photoshop CS.

Session 05: Merge to HDR (22 minutes)
So why would I use HDR and what is it? It's High Dynamic Range -- 32 bits of information per channel of color. If you are doing posters with great detail this is a session not to miss.

Session 06: Red Eye Correction (6 minutes)
Red eye removal made easy! Two techniques and Mr. Davis provides extra brushes on your DVD to put into your brushes tool box palette.

Session 07: Smart Sharpen (28 minutes)
Bicubic Smoother and Bicubic Sharper are new items in the pull down menu in the Image Size Dialogue Box -- next to Resample Image. This a must know if you ever have to make an image smaller or larger.

Scaling Up and Down
Working with documents that are used in print form? This section gives an overview that saves time and valuable disk space when saving photo files.

Unsharp Mask, Smart Sharpen and High Pass
WOW! This High Pass Filter was worth the entire investment of the training! Don't miss this section -- lots of creative possibilities when creating collages or stepping up to a higher sharpening level!

Session 08: Noise Reduction (17 minutes)
The gift of the Wow Color & Luminosity Noise Removal Action with the detailed explanation will help make your poor resolution shots look even better -- with little effort!!

Session 09: Smart Collage (34 minutes)
By learning how to create templates for repetitive projects and using the power of Smart Objects, my work is looking more professional. Automating tasks frees up time for being even more creative.

The bonus Wow Styles and Patterns give the user an endless source of artistic creativity.

Session 10: Image Warp (23 minutes)
WOW! WOW! The Image Warp and Smart Objects allow me to use a logo on anything, anyone, anywhere! Too SWEET! And the trick for getting the reflection to show on shiny objects is mind blowing!

And don't forget the included HTW Grid that makes warping more visual during the process.

Session 11: Vanishing Point (22 minutes)
All the mystery is taken out of the new Vanishing Point Tool in Photoshop CS2. Now I can remove and add objects or words and have perspective all at the same time! This tool is amazing! Worth the upgrade to CS2.

BONUS OVERVIEW SESSIONS
Session 12: Paths to Great Photos - Bridge (26 minutes)
The Bridge is my favorite new feature in all the CS2 Adobe applications. Jack showed me some features that I had overlooked. Needless to say, mastering all the features of Photoshop is "Continuing Education." Don't miss the PDF hints!

Session 13: Paths to Great Photos - Optimizing (15 minutes)
This session is an overview of all the concepts learned so far -- repetition with a few added twists!

Session 14: Paths to Great Photos - Camera Raw (15 minutes)
Using Camera Raw Step-By-Step.


PRICING AND HOW TO ORDER

How to Wow - Best of Photoshop CS2 with Jack Davis
DVD-ROM
Reference: PSCS2JHDBD
Cost: $125.00

Has Bare Feats helped you? How about helping Bare Feats?