Can Virtual PC software on a 500MHz G3 with a Voodoo2 board do PC games at reasonable speeds?
Tested 6/12/99
© 1999 Rob Art Morgan, editor of BARE FEATS
rob-art@barefeats.com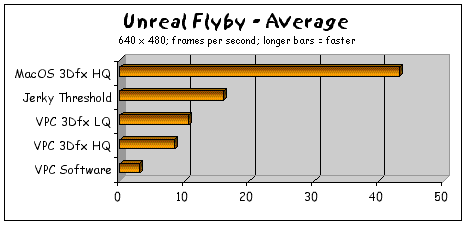 The good news is that Connectix Virtual PC 2.1 supports 3Dfx. The bad news is that even with a Voodoo2 board, the game speed is below the "jerky to the eye" threshold of 16 frames per second.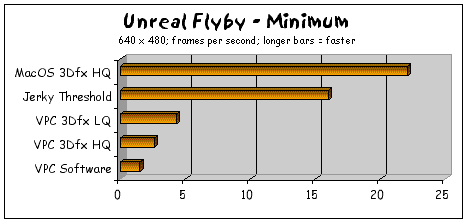 The minimum frame rate is important to know. Even if the average is above 16 frames per second, Unreal will still appear jerky if the minimum drops below 16 frames per second. I tried turning off special effects but it didn't help Virtual PC very much.
CONCLUSION: It's a good thing Apple has decided to "woo" game developers. Virtual PC is NOT an acceptable way to address the shortage of Mac games.
---
Test Notes
Click here for more BARE FEATS speed results
© 1999 Rob Art Morgan.
Gotta Question? Comment? Want to advertise?
Email Rob Art at rob-art@barefeats.com