Posted 7/15/03 by Bettay Morgan, roving editor for Bare Feats
Having my PowerBook G4 Titanium heat up my lap on a 32 degree frosty morning in Julian, California, is nice, but only to a point. And I hate it when the fan kicks in at full tilt. Is there a solution? Yes.
The solution I found for cooling my TiBook is the RoadTools Podium CoolPad. The concept is simple. Creating an airspace under the laptop allows heat to dissipate.
Is it effective? I found that my PowerBook's fan did not come on nearly as often or ran at only stage one. I didn't have to put pot holders on my lap. My wrists and neck didn't get as tired or strained because the ergonomics of the Podium gave me the same angle for my keyboard and screen as my desktop Power Mac.
The black trapezoid-shaped base pivots, allowing me to spin my computer up to 360 degrees to show clients their new web designs, ads, business cards, etc.
On my trip to California recently, I gave the RoadTools Traveler CoolPad a test run. It is smaller and the risers are not as high. The Traveler fit easily into the sleeve of my Tumi Wheel-A-Way bag. While seated on the plane, I was able to spin my laptop to show Rob-Art what I was working on without having to lift my Titatium physically. The rubber "feet" gave me enough resistance to prevent movement when I was typing. Also, when the flight got a little bumpy, the rubber feet on the bottom of the Traveler and the ones touching my laptop kept it solidly secure on the little airline table top… no slipping like on my last trip.
When using the Traveler on my lap, it did not seem to keep my laptop as cool as the larger size Podium. But I like the smallness when I'm in cramped quarters or when using my laptop to demo a web site to a client. Because the cost is so small, I would still suggest getting both models… one to travel with and one for my desk in the Bare Feats lab.
The larger Podium CoolPad has stackable risers that allow me adjust the keyboard incline by 1/2" increments. The risers can be removed completely so that I can easily stow it away if I do take it on a trip.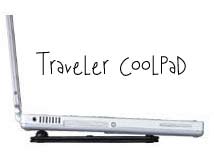 Which Podium CoolPad Should I Choose?
If you use your laptop most often at your desk I suggest the adjustable-tilt Podium Coolpad. If you travel a lot, maybe the smaller Traveler CoolPad would meet your need. I like having both. RoadTools offers a bundle deal, the Podium for your desk and the Traveler for the road. If you purchase both, you will save $10. The CoolPads come in black and white. They are guaranteed for life and manufactured in New Hampshire. Just another great gift item for those hard to please computer buddies.
Prices for the CoolPads
| | |
| --- | --- |
| Traveler CoolPad | $19.95 |
| 3-Pack of Traveler CoolPads | $49.95 |
| Podium CoolPad | $29.95 |
| 2-Pack of Podium CoolPads | $49.95 |
| Podium + Traveler CoolPad Bundle | $39.95 |
| | |
Where to Buy?
They are available practically at many fine resellers including the Apple Retail Store, CompUSA, Best Buy, Circuit City, and Staples. If you prefer to order online, you can order dirct from RoadTools. Check also with Other World Computing.
Be sure to let them know you heard about it on BareFeats.com