Originally posted 03/18/03 by rob-ART morgan, mad scientist


Surprisingly, the 1.42GHz Power Mac is only slightly faster than the 1.25GHz in the CPU intensive "FASTEST" Quake3 test. That makes the 1.25GHz with a fast graphics card a great buy for bargain hunting Mac 3D game freaks.
HOW DOES THE 1.42GHz POWER MAC COMPARE TO A 3GHz PENTIUM 4?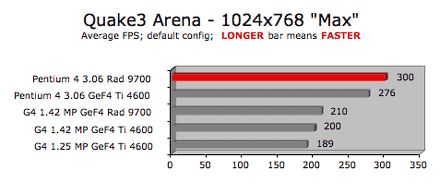 (Default config file used in above tests. You can "goose" the Mac's speed to 300 by using the "Boli" config file. When I tried it on the Pentium, Quake3 froze.)
Go to the updated Mac vs PC page for more graphs like the one above.
RETURN TO PAGE ONE and CONCLUSION