BARE FEATS asks....
"How does the new Orion RAGE 128 run
on an old PowerMac 7500
with a G3 Upgrade?"
Created 6/17/99 by rob ART morgan (barefoot@hawaii.rr.com)
First, the 2D stuff.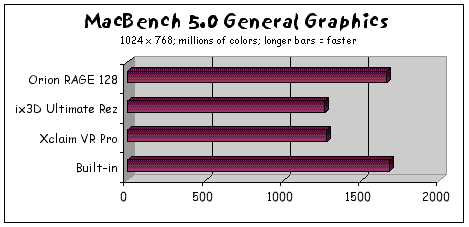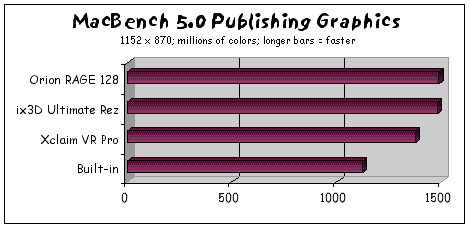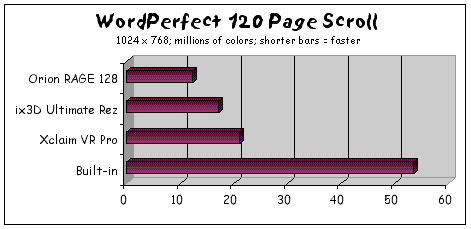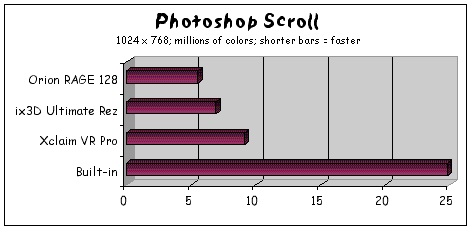 Next, the 3D stuff.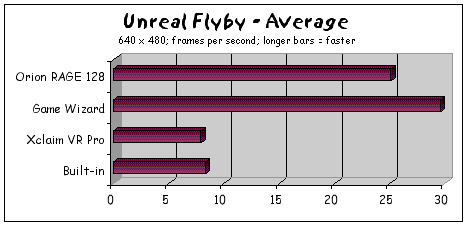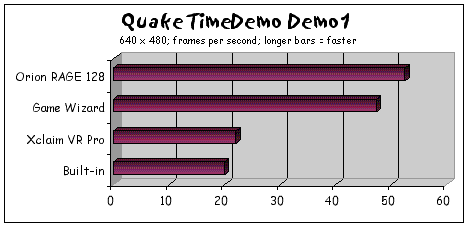 Conclusion: Sell or trade in whatever you got for a RAGE 128 board.
(but before you do that, read about Voodoo3)
The purpose of this test was to see how the Orion helped an "aging" 7500 with a "mid speed" G3 upgrade. Although it didn't impress me on the MacBench tests, it sizzled in the "real world" 2D scrolling tests.
For the 3D tests, I replaced the Ultimate Rez with a Game Wizard 3Dfx Voodoo2 board. You definitely want to play Unreal in 32 bit mode when using the Orion for visual quality. Amazingly, it was just as fast in 32 bit mode as it was in 16 bit mode.
I apologize for not including the MacTell Vision 3D Pro II Lite in this test. I would guess it beats the Orion in 2D tests but it won't even run the 3D tests. One reader was considering getting a Vision 3D (for 2D) and mating it with a Game Wizard Voodoo2 (for 3D games) to create the ultimate combination. There are two problems with that strategy: a) You'll spend three times as much as getting the Orion, and b) you'll gobble up 2 PCI slots instead of one. Face it, ATI has created the best all around graphics accelerator board at a bargain price.
---
Test Equipment & Procedures
| | |
| --- | --- |
| Graphics Accelerator | Video RAM |
| Orion RAGE 128 | 16M |
| Game Wizard 3Dfx | 12M |
| ix3D Ultimate Rez | 8M |
| Xclaim VR RAGE Pro | 8M |
| built-in | 4M |
Test Mac was an aging 7500 with a PowerLogix PowerForce G3/275/275 set to 292MHz and 1:1 cache ratio.
The MacBench 5.0 suite from Ziff-Davis was used. It's one of the few benchmark applications that closely simulates "real world" usage. You need the CD-ROM to run the Graphics tests. It only costs $5 to order.
For the WordPerfect 3.5.3 scrolling test, I created a 120 page document containing the sentence "The Quick Brown Fox Jumped Over The Lazy Dogs" repeated over and over in paragraphs of 8 sentences each in 14 point Times font. Using a stopwatch, I timed how long it took to scroll from the beginning to the end of the document while holding the mouse button down with cursor over the scrolling arrow. (Font smoothing was turned ON for my test but you might want to consider turning it off. I found it took 50% longer to scroll through a document with it ON!!)
Adobe Photoshop scrolling test was run using 4.0.1 DEMO (120MB App size), a 30MB test document, and a stop watch. Results were rounded to the nearest half second. The scroll test was done at 400% zoom; scroll arrow held down while scrolling from top to bottom
The Unreal 3D 2.2.4b2 test used was the Castle Flyby that comes up at startup. I turned on all the bells and whistles to get high quality graphics. The new version of Unreal doesn't need the Timedemo.u file in the System Folder any longer. To get the average frames per second, you press "~" and enter "timedemo 1". Then press "~" to open up the full screen again. What's cool is that it restarts the flyby at the castle entrance. To turn the frame rate display off, you enter "timedemo 0."
Quake "frames per second" ratings were obtained by starting up the game, pressing the "~" key, then entering "TIMEDEMO DEMO1" followed by RETURN and another "~" once the demo started. The average frame rate is displayed at the bottom of the screen at the end of the demo. Monitor and Game Resolution was set to 640 x 480. Options were set to Flames ON, Filtering ON, Shadows ON, Skip Lines OFF, Double Pixels OFF.
Many thanks to:

ATI Technology for the use of the Orion RAGE 128

Consult Deal Mac for lowest prices on the RAGE 128 boards (and PowerLogix ZIF upgrades). One of my favorite sources is MacGurus -- they specialize in upgrades for cpu, graphics and hard drives. They REALLY know their stuff.

If you want your own copy of MacBench 5.0 , the CD-ROM costs $5 to order from Ziff-Davis.

Click here for more BARE FEATS speed results
© 1999 Rob Art Morgan, editor of BARE FEATS
Gotta Question? Comment? Want to advertise?
Email Rob Art at rob-art@barefeats.com