REVIEW: Nikon D70 Digital Camera
Originally posted March 3rd, 2005 by Special Features Editor, Bet-TAY Morgan.
The Need for NIKON SPEED
I've been torn between having a small-sized digital camera and a faster, larger Digital Single Lens Reflex (DSLR) camera during the last 3 years. I held back to find out what professionals experienced and whether the DSLR would perform at the SPEED of a "real" Nikon film camera.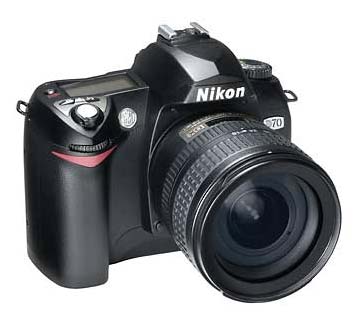 High End Nikon Cameras
When I first started watching the development of high-end Nikon digital cameras, the cost seemed too high and the reviews were not the greatest. But when the Nikon D70 Digital SLR 6.1 Megapixal Camera came out, I saw the price and the rave reviews. I knew that it would be my next camera. When Nikon offered a year-end rebate, I decided to spend my Christmas money on a new Nikon D70 Digital SLR. (As of February, 2005, there are a new set of rebates.).

Getting Used To The ViewFinder... again
Not only does the Nikon D70 feel like my old Nikon FE, it sounds like it and shoots like it. The best part is that I can see a sample of the image on the LCD display immediately after taking the shot, even though it's still processing. Yet, I missed the ability to compose my photograph in the LCD display. After having used the Nikon 950 and the Nikon 5000, it took me a while to get used to looking though the viewfinder again. The viewfinder for the Nikon 950 and 5000 was of limited use due to being off center and displaying more than the camera would actually record. But the good news is that the D70's viewfinder shows me exactly how the image will turn out including including how well it's focused.

Fabulous Colors and Expanded Controls
The fidelity of each photograph taken with my Nikon D70 is far superior to the Nikon 950 or 5000 models. I have much less correcting and adjusting to do in Photoshop after uploading the images. I also love the ability to manipulate aperture, shutter and ISO settings... just like with my old Nikon FE.

Battery Life... UNBELIEVABLE!
I have used the camera off and on for several weeks now using mostly flash and there has been no drop in the battery level. Nikon has definitely improved the camera's battery LIFE. I purchased two extra batteries to have on hand for any jobs... but it looks like I could go all day shooting photos without having to change the battery.

NOTE: There has been a recall on certain lot numbers of the Nikon D70 batteries. Check the USA list or European support site to see if you qualify for a replacement.

CompactFlash Cards
Regardless which camera you choose, if the flash card can't keep up with the camera's processing, the picture taking process will S-L-O-W D-O-W-N. I use the SanDisk Extreme CF card for the Nikon D70. As you can see from the graphs below, the 512MB SanDisk Extreme Card writes and reads faster than other compact flash cards we tried so far and seems perfectly geared for the Nikon D70's processing speed.

This next graph simulates when the camera writes to the card.

We are hoping to test the SanDisk Extreme III CF card since it is supposed to read and write twice as fast as the Extreme. But according to SanDisk rep, the Nikon D70 won't cycle any faster using the Extreme III. However, he said with a fast CF card reader, it will transfer your images to your computer more quickly than using the Extreme. We use the SanDisk Ultra FireWire ImageMate Reader because it is faster than any other reader we've tried including any USB 2.0 reader. We used it in the speed tests above.

Nikon Lenses
If your traditional Nikon lenses have been stored away in a camera bag on the top shelf of the closet, get them out. Yes, you can use them on the Nikon D70! I had a great Macro lens I used with my 24 year old Nikon FE. Now it's in my Nikon D70 bag. Just be very careful to not get dust or debris inside the camera body when dismounting and remounting the lenses. Special cleaning instructions are explained in all the educational materials listed below.

Nikon Remote Controller
Timers on cameras are okay, but if I want to be in a photograph with my family or shoot close-up macro type objects, having a remote device makes this so much better. I can be in the photograph without running to find my place before the camera goes off and if I'm photographing an insect or coin, the camera is not moved when I press the shutter release button.
The Nikon ML-L3 Remote Controller is inexpensive (B&H Photo sells it for $17) and it comes in its own carrying case that can fit right in my pocket... or on the camera strap.
NOTE: Since we first posted this article, we have purchased a Nikon D70S in addition to the D70. We have a hard time sharing a good thing. ;-)
Nikon D70 Educational Tools
Although the Nikon D70 Operation Manual is extensive, I prefer beautifully illustrated and photographed color books, ebooks, or DVDs to teach me how to use something. My three favorite sources for instant learning how to use the Nikon D70 are:
Nikon D70 Made Easy - 2 Disc DVD
DSLR D70 by Peter iNova - eBook
The Complete Guide to the Nikon D70 by Thom Hogan - eBook
(FOR DETAILS and ORDERING INFO on these training resources, continue to PAGE TWO.)
Has Bare Feats helped you? How about helping Bare Feats?