I've often said that one of the easiest and least expensive ways to speed up your Mac is with a really good mouse. The Razer mouse is a really good mouse and is my personal favorite.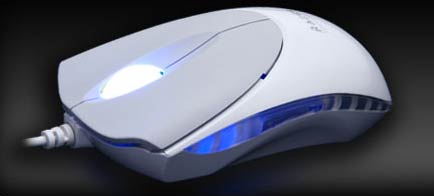 The makers of the Razer mouse, the hottest PC gaming mouse, have released a "pro" version targeted for Mac users called the Pro Click v1.6™ high precision professional mouse. Since we already have several Razer Diamondback mice in the lab, it's natural that we were glad to review this white (to match the Mac factory keyboard) model with blue glowing LEDs. More importantly, we were interested in the Mac compatible drivers (for PPC and Intel Macs) that should allow us to customize the buttons.
The package sent to us by the Razer gang included a white mousing surface (mouse pad) made of anodized aluminum which they call the Pro Pad. It's non-slip, anti-reflective, abrasion resistant hard coated pad that is supposed to enhance the precision and accuracy of the Pro v1.6 mouse.
We have no way to measure the pad's effectiveness. All we know is that running the mouse around on it was like scraping your fingernails across a chalkboard. I'm also concerned that it might wear out the mouse's "foot" pads prematurely. Personally, I prefer my black, smooth, memory foam mouse pad.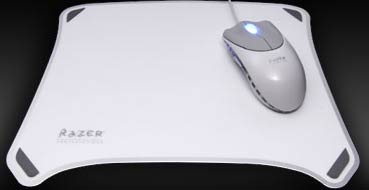 I suppose that in a high precision situation, I might need to give the Pro Pad another try, but the kind of mouse pad is a subjective choice, much like the choice of a mouse.
We do know this, the 1600 dpi precision is double what most mice offer and you can definitely tell the difference when you use it. At only 91 grams, it's about the same weight as the Apple corded Mighty Mouse. And the tilt of the main two buttons feels more natural to my hand than the Mighty Mouse. We were impressed enough to buy two of the Pro Click v1.6 mice for our test lab.
Razer Pro Click v1.6™ Technical Specifications
Infrared engine powered by Razer Precision™
1600 dpi, twice that of conventional high performance sensors
High speed motion detection, up to 40ips and 15g
Frame rate over 6400 frames per second (5.8 megapixels per second)
16 bit data path, as compared to 8 bit and 12 bit data paths used by other mice
Always-On™ Mode – the optical sensor never powers down
- provides instantaneous response at all times
Buttons – 7 independently programmable physical buttons with multiple macros
Ultra large non-slip mouse buttons, tactile response design
Non-slip side rails and new ergonomic ambidextrous design
Zero acoustic Teflon feet for smooth motion over any surface
Gold plated USB connector for maximum conductivity
Size: 5.04" length x 2.5" width x 1.54" height
7 foot, lightweight, non-tangle cord
Award-winning Razer™ drivers featuring On-the-Fly™ sensitivity adjustment
ADVANTAGES
Precise and responsive as any mouse we've used
Works for righties and lefties
DISADVANTAGES
The body oils from my fingers discolored the light gray mouse buttons. There may be a way to clean it but we haven't found it yet. That's why you might want to consider the Razer Diamondback Salamander since it has black buttons, a cool red glow, and is compatible with the Mac compatible drivers.
WHERE TO BUY A RAZER MOUSE
You can order the Razer Pro Click direct from the Razer Zone online store.

Or order the Razer Diamondback Salamander Red Mouse from Amazon.com
WHERE TO BUY A MAC to go with your RAZER MOUSE
Small Dog Electronics -- New and factory refurbished Macs; They accept custom orders; Also have memory and drive upgrades.

PowerMax -- New and refurbished Macs

Apple Online Store -- New and factory refurbished Macs; They accept custom orders

Amazon.com -- Free shipping and sometimes rebater for Macs