BARE FEATS asks:
How much speed do I gain in my Beige G3 if I replace the original 4 gig Fireball with a $199 Maxtor 20 gig drive?
Tested 9/3/99.
© 1999 Rob Art Morgan, editor of BARE FEATS
rob-art@barefeats.com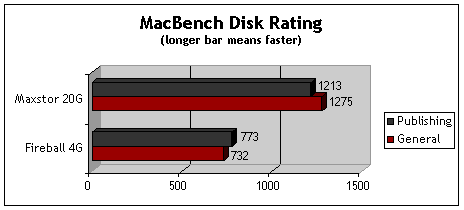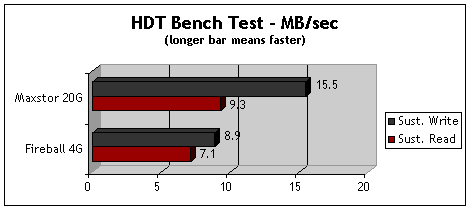 Conclusion: Adding this drive nearly doubled the write speed of the Beige G3. It even outperformed a Yosemite G3/400 whose MacBench rating was 1090 (6 gig Fireball). It's a no brainer for any Mac user with the need for a larger, faster IDE drive.
Test Configurations & Procedures
The test computer was a Beige G3 266 DT with a PowerLogix G3/466 ZIF upgrade and 128M of RAM.
The original drive was a Quantum Fireball SE 4 gig. The replacement drive was a Maxtor Diamond Max Plus 20.4 gig UltraDMA/66 EIDE. (The Maxtor drive was purchased on special at CompUSA Honolulu for $199. There have been similar specials at Onsale, Costco, and Staples. Check with Deal-Mac.)
I installed both drives as MASTER. If you want to keep both drives connected, one must be set up as a SLAVE. This only works if you have a REV 2 Beige G3. (See Accelerate Your Mac's upgrade instructions for IDE drives.)
Before the tests were run, both drives were freshly formatted with HD Setup version 1.7 and Mac OS 8.6 was installed. The Maxtor was divided into two partitions: 4 gig and 16 gig. The tests were run in the 4 gig partition containing the System Folder.
MacBench 5.0 attempts to simulate a mix of real world disk operations. The disk cache was set to 512K instead of the default setting to minimize effects of caching.
FWB's Hard Disk Tookit has an excellent Bench Test module that can give accurate information on Sustained Read/Write, Random Read/Write, Transactions/Second, etc. (There's a special price of $35.95 if you go to the Special Order page and inter "6sum99" in the discount code field.)
A big THANK YOU to...

...David Tasaka of Lyte-On for the use of his Beige G3 DT for testing

...PowerLogix for the use of the G3/466 ZIF upgrade
Consult my Hot Deals page
for best prices on these and other products.

Or go see more Speed Test Results

RETURN to bare feats main index

© 1999 Rob Art Morgan, editor of BARE FEATS
Gotta Question? Comment? Want to advertise?
Email rob-art@barefeats.com