Third Gen iPod Nano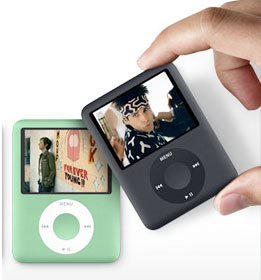 It's an improvement over the 2nd Gen Nano in that it has a bigger screen and now lets you play videos, though I'm not sure I want to watch movie on a 2" screen. Even with these enhancements, it's only 9 grams heavier that the previous Nano. I was surprised to learn that the 2 inch screen's pixel density is higher than the Classic and Touch (204 pixels per inch vs 163).
Great to see aluminum used for the face. I wonder why they don't use it for the back. The chrome finish scratches and smudges very easily.
I loved some of the clever cases and covers for the previous Nano. Hopefully the same clever ones will appear soon for this 3rd Gen Nano.
iPod Classic
In terms of cost for storage, the Classic is a better buy than any of the iPods. But at 140 grams (5 ounces), it does weigh more than all the others. It is thicker than the others, too.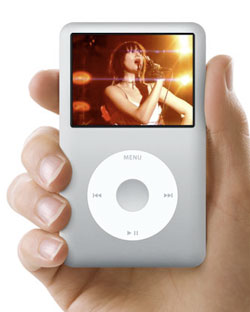 I'm so used to the iPhone touch screen, found myself touching the screen of the Classic to select songs instead of using the Click-Wheel.
Again, great to see aluminum used for the face. I wonder why they don't use it for the back where the chrome finish scratches and smudges very easily.
iPod Touch
It's thinner and lighter than the iPod Classic (or the iPhone). The wide 3.5 inch screen and multi-touch-screen interface make it my favorite of the three even though it doesn't hold as much stuff as the Classic.
Plus it has "un-iPod" features like the ability to surf the net via Safari/WiFi or watch You Tube videos directly. You can sync with your Mac's iCalendar and Address Book. Let's see -- clock, calculator -- all I need to make it a PDA is a Notes function (like the iPhone has) that syncs to the Stickies function under Tiger (or Notes function under Leopard). (Hint, hint.)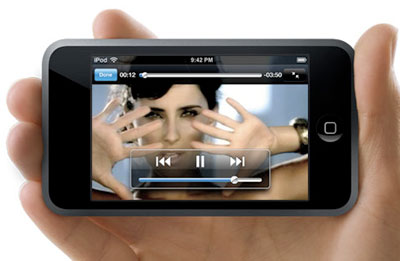 The iPod Touch should relieve a lot of the iPhone envy experienced by those who can't or won't switch to AT&T in order to enjoy the iPhone experience.

iPhone as an iPod
If you already own the iPhone, you will find little to envy about the iPod Touch other than the extra storage (16GB vs 8GB).
It occurred to me, however, that iPhone owners who use their iPhone heavily for phoning or emailing or text messaging but don't want playing of tunes and movies to sap what's left of the battery life -- and who prefer the touch-screen interface -- might want a Touch as their "normal" iPod. Did I mention that the Touch stores twice as much as the iPhone?
Of course, a 16GB iPhone with 3G broadband data networking and GPS function might cure any desire I might have to augment my iPhone with an iPod Touch.
SCREENS compared watching movies.
I played the Nature HD sample from the QuickTime HD Gallery in each of the iPods. Since the Nano and Classic had 4:3 aspect ratio screens, the 16:9 ratio HD video was letterboxed. The result was a 1.75" diagonal image on the Nano's 2" screen and a 2.25" diagonal image on the Classic's 2.5" screen. Advantage: iPod Touch.
Some people think watching videos on any model of iPod is nuts. I have an answer for them. As I sit in my massage chair holding the iPod in my lap, it's a lot closer to my face than the LCD screen 10 feet across the room. So I conducted an experiment. I raised up each of the iPods so they were eye level with the LCD screen on the wall. According to my measurements and calculations, the iPod Nano is equal to watching a 16" TV display 10 feet away. The Classic is equivalent to watching a 19" display 10 feet away. And the iPod Touch is equivalent to watching a 25" display 10 feet away.

Curious factoid: Screen pixel density of Nano is 204 ppi vs 163 for the Classic, Touch, and iPhone.
ME AND MY iPODS
We are a multi-iPod family. Not only do Bettay and I have two iPods each, but we have handed down older iPods to our children and grandchildren.
My MINI Cooper S has an iPod connector in the glove compartment. That's where my Nano "hangs out" most of the time. I'm keeping the newest Nano and sending the 2nd Gen Nano to my son to use on his mountain bike rides.
After I get done playing with the iPod Touch, I'll be sending it off to -- can't tell you -- it's a surprise. Let's say it's someone who has been drooling over my iPhone but who can't switch to AT&T. As for me, my main iPod is the iPhone since I only carry around only about 7GB of tunes and movies.
Bettay, on the other hand, likes having her whole library of tunes, many photos, and several movies on her iPod. So she gets the 80GB Classic when I'm done testing and her 30GB Video (5th Gen) iPod goes to one of our daughters.
However, when Bettay is working out on the elliptical trainer or wandering through the forest taking photos, she prefers her iPod Shuffle.
WHERE TO BUY YOUR NEW iPOD
Click THIS APPLE TEXT LINK or any Apple display ad when ordering your new iPod to help support Bare Feats. (DON'T LIVE in the USA? See links for Apple online stores in other countries.)

A FEW OF OUR FAVORITE iPOD ACCESSORIES
I prefer the silicon sleeves made by various manufacturers...
like the Macally iPod Silicone Protective Sleeve Black for the Nano

and the iSkin eVo3 for iPod Classic (Eclipse)
.
Bettay prefers Sportsuit Sleeve Case for her iPod Classic by Marware.
We both have Bose® In-Ear Headphones
(aka EarBuds).
And we always travel with our Bose QuietComfort 2 Acoustic Noise Cancelling Headphones.