Some of you have seen various iPad (and iPhone) benchmarks posted by reviewers to whom Apple provided early access to the iPad 2. Not being among the media elite, we will be standing in line to pick up our iPad 2 today. We've already posted our results for the SunSpider Javascript benchmark which runs in your iPad or iPhone browser (Safari or Atomic Web). It also runs on the Xoom tablet, Atrix phone, and other Android devices. Here's our latest results (to which we will be adding the iPad 2 results):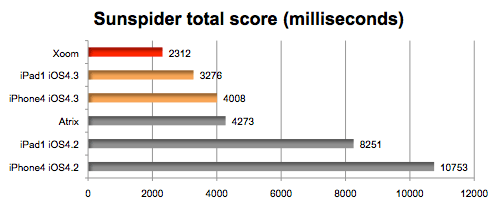 An article posted by Daring Fireball shows the iPad 2 running Sunspider in 2161ms which is faster than the speed we measured on the Xoom tablet.
If you want to do your own testing, I've compiled a list of benchmarks that we plan to run on both models of iPad as well as the iPhone 4:

Geekbench ($.99)
Measures CPU integer, floating point, and memory speed
Also available in OS X, Windows, and Linux versions.
OpenGL Extensions Viewer (free)
Measures OpenGL graphics speed. There are three different animations that run to give you frame rates. You can make it tougher by turning on Transparency, Fog, Multisampling, Anisotropic filtering, etc.

GLBenchmark ($4.99)
Contains high level OpenGL 3D animations and is the ultimate test of game performance.
Thoughts? Contact , mad scientist.
Also, you can follow him on Twitter @barefeats