Posted Friday, August 21st, 2009, by rob-ART morgan, mad scientist
Many of you may not know that one of the original inspirations for Bare Feats Lab was my desire to research the best platform for digital cartooning.
My first published cartoons were drawn with pencil, ink pens, and colored with Luma ink. When the first Mac was introduced with MacPaint, I began to experiment with digital cartooning via mouse, but it was like drawing with a bar of soap.
When drawing tablets began to emerge, I could hardly wait to try them. The Summagraphics was my first but it was soon replaced with a Wacom.
The name "Wacom" was invented in 1983 when the company was started in Japan. It's taken from the word "Wa" which means "harmony" or "circle" and the word "Komu" which means "computer." So "WAH-comb" is more faithful to the pronounciation of the original root words than "WAH-kum" or "WACK-um" or "WEY-com."
My first Wacom had a pen attached by wire. The tablet required a serial port and a power source. There was a delay between the drawing motion and what appeared on the Mac screen. It's been interesting to see the evolution to wireless pens with batteries followed by wireless pens with no batteries. The tablets themselves have evolved to better response time, higher resolutions, pressure sensitivity, user-defined buttons, touch wheels, and USB 2.0 interfaces. The tablet construction has evolved from thick and heavy to thin and light.
The drawing software has come a long way since the days of MacPaint. My favorite for cartooning is Corel Painter, but Adobe Photoshop comes in handy, too.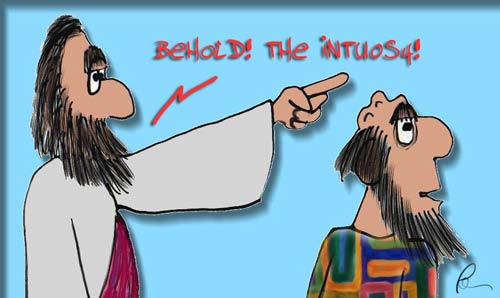 At the Bare Feats Lab, we had the opportunity recently to try three sizes of the newest Wacom Intuos4: Medium, Large, and Extra Large. The Medium seems ideal for use with MacBook Pros and fits nicely inside my Tucano Stile Work Out laptop brief for travel.
In theory, the Extra Large should be ideal for 24" and 30" Cinema Displays giving you nearly a one-to-one relation with the screen but it felt too thick and heavy (8 lbs) in my lap. And the drawing motions felt exaggerated. It just seemed like overkill. I suppose it might work better if you have a large work table to lay it on with the screen pushed back.

But for the way I use the tablet with the Mac Pro and iMac, I prefer the Large Intuos4 with its 8x13 inch active drawing area. I was already happy with the Intuos3 9x12 tablet so I wondered what the Intuos4 offered that could motivate an upgrade. What are the improvements or new features?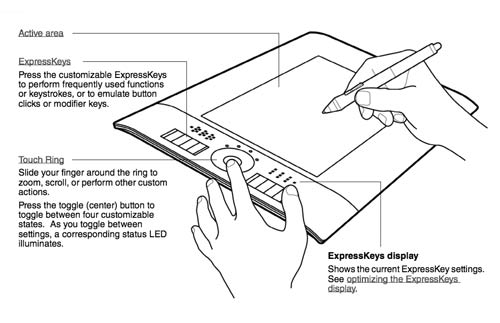 CONCLUSION
I am selling my Intuos3 9x12 on eBay and buying a Wacom Intuos4 Large (8x13). Bet-TAY, our special features editor, has already sold her Intuos3 6x8 and is now using the Intuos4 Medium (6x9) with both of her Macs.
WHAT ABOUT THE CINTIQ?
The concept is compelling -- direct on pen-on-screen input. It seems more natural for an artist used to using pen and ink and brushes. But the Cintiq 21UX with the 21" diagonal screen (13" x 17" drawing area) is expensive ($2K) and heavy (22 lbs). It ties up an external video port. For the same price I could afford a 30" Cinema Display and Large Intuos4 tablet!
The Cintiq 12WX is lighter (4 lbs) and cheaper ($1K) with a smaller screen (12" diagonal or 6.4 x 10.3" drawing area). The pens, ExpressKeys, and Touch Strips are similar to the Intuos3. Maybe Wacom will redesign the Cintiq tablets in the near future to make them more compelling.
RELATED LINKS
Compare the specs on various Intuos4 tablets
If you purchased the optional AirBrush or Art Pen for your Intuos3, they do not work on the Intuos4. You'll need to sell them and buy the Intuos4 versions of each pen.

Download the Wacom drivers
Download a 30 day trial copy of Adobe Photoshop
Download a 30 day trial copy of Corel Painter
WHERE TO BUY WACOM INTUOS4 or CINTIQ TABLETS
Order direct from the Wacom's eStore. They are also sold on the Apple Store USA (search for "wacom"). Get the Intuos4 bundled with Painter at the Corel online store. Check pricing at Buy.com and ClubMac.
WHERE TO BUY PHOTOSHOP or CREATIVE SUITE:
Order your copy of Adobe Photoshop (or the Creative Suite) direct from Adobe USA. Or click these links to Adobe France, Adobe Germany, Adobe Sweden, or Adobe UK. (Clicking our links helps us earn a commission.)
WHERE TO BUY COREL PAINTER:
Get the Intuos4 bundled with Painter at the Corel online store. Or just order Painter full or upgrade copy from them.
WHERE TO BUY APPLE PRODUCTS (including WACOM tablets):
When you purchase products at Apple USA, please CLICK THIS LINK. It's a great way to support Bare Feats since we earn a commission on each click-through that results in a sale. To find drawing tablets, search on "wacom."