REVIEW:
HighPoint RocketRAID 2314MS
SATA 3G RAID host adapter
Originally posted September 3rd, 2007, by rob-ART morgan, mad scientist
Updated September 5th, 2007, with corrected RAID 5 results for 10 drives.
HighPoint Technology is seriously courting the Mac community with their RocketRAID line of 3G SATA host adapters featuring RAID 5 support at the card level. They even created a "Mac only" version of their web site. Back in March we reviewed the RocketRAID 2314 SATA 3G host adapter with four external eSATA ports. In this article, we tested the RocketRAID 2314MS with a single external mini SAS port that mates to a special cable that feeds up to four eSATA ports.
Both host adapters not only offer the security of RAID 5 at the card level, but with the version 2.11 driver, write speeds are improved. The feature set on both cards includes Port Multiplication support, Sleep support, Online Capacity Expansion (OCE) -- without reformatting the RAID set, and on-the-fly Bad Sector Reallocation.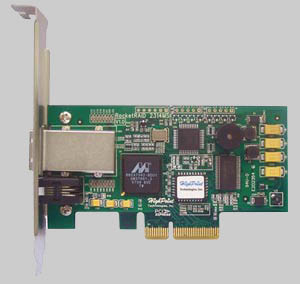 TEST RESULTS
You can read more about the RocketRAID 2314MS's specifications and features below but first some performance data: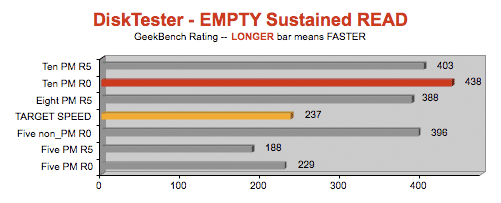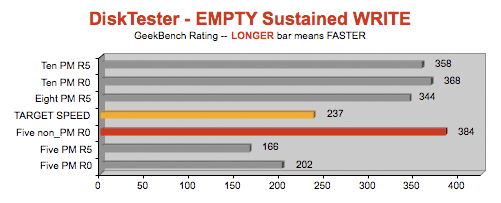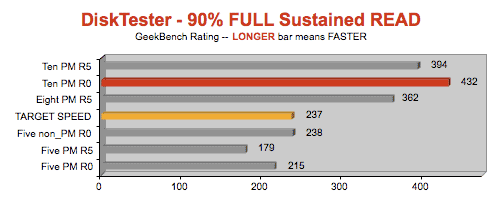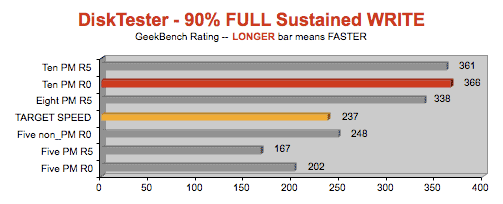 GRAPH LEGEND
Five = 5 Hitachi 1TB drives; Eight = 8 drives; Ten = 10 drives;
PM = Port Multiplied enclosure -- 4 or 5 drives per data channel
non_PM = 1 data channel per drive
R0 = RAID 0; R5 = RAID 5
TARGET SPEED = Speed at which Uncompressed 10 bit RGB (4:4:4) 1920x1080/60i can be captured or played back without dropping frames.
DiskTester is a benchmarking tool created by Lloyd Chambers.
THE IMPROVED WRITE SPEED
Back in March, we only got 262MB/s sustained WRITE speed with a 10 drive empty RAID 5 set and 259MB/s with a full one. This time, with the newest 2.11 driver, we got 344MB/s with an empty 8 drive RAID 5 set and 338MB/s with a full one. That's well beyond the target transfer rate of HD Uncompressed 1080/60i video.
Keep in mind that using Port Multiplication may allow one port to feed up to 5 drives in a PM enclosure, but it limits the transfer speed to about 220MB/s per enclosure. That's why you must plan on using two or more PM enclosures to achieve higher transfer rates.
CONCLUSIONS
With the newest 2.11 driver, the HighPoint RocketRAID 2314MS offers the security of RAID 5 with enough speed to be used for Uncompressed HD capture and playback -- assuming you have at least two PM enclosures with at least 8 drives in the RAID set.
The RR2314MS is reasonably priced at $199 -- especially considering its rich set of features. However the $59 mini-SAS to eSATAx4 cable is not included.
SPECIFICATIONS OF THE ROCKETRAID 2314MS
PCI-e x4 (x8, x16) slot compatible
1 External mini-SAS port
Supports up to 4 SATA II Hard Drives in non-PM mode
Supports up to 20 Hard Drives in Port Multiplication mode (four 5 bay enclosures)
Supports RAID 0, 1, 5, 10, 50 and JBOD
mini-SAS to four eSATA cable not included but can be purchased for $59

FEATURE SET of the RR 2314MS (and 2314)
3Gb/s (300MB/s) transfer rate
NCQ (Native Command Queuing)
Staggered drive spin-up support
Browser-based RAID management software
Hot swap and hot spare (using browser based RAID manager)
Bad Sector Reallocation and Remapping (without Rebuild)
Write-through and write-back cache support
Quick and Background initialization for quick RAID configuration
Online Capacity Expansion (OCE -- ability to add a drive to array on the fly)
64bit LBA for over 2TB volume support
Automatic RAID rebuild of failed drive
S.M.A.R.T drive monitoring for status and reliability (using RAID manager)
SMTP for email notification (in case of problems with the array)
RoHS Compliant

TEST PROCEDURE
We connected the five bare 1TB Hitachi drives, each to its own 3G data channel to establish a non-PM baseline. Then we connected the LaCie Biggest S2S Port Multiplication enclosure (with five 1TB Hitachi drives) to the RocketRAID 2314MS. We configured it as RAID 0. Ran speed tests using DiskTester (4GB test sample, 3 iterations). Then configured it as RAID 5. Ran speed tests.
Next we added a second PM enclosure, the Wiebetech SilverSATA V, with five more drives configured a total of 10 as RAID 0. Ran speed tests. Configured the 10 drives (two enclosures) as RAID 5. Ran speed tests.
Finally, it occurred to us that you might want to have a "hot spare" available on each enclosure. (A hot spare kicks in if one of the active drives fails.) So we configured 8 drives (4 + 4) as RAID 5 and defined the fifth drive in each enclosure as the hot spare.
OTHER INFO
If you already have a RocketRAID host adapter installed (such as the RocketRAID 2322), you can't run a second one. Furthermore, the driver for the RocketRAID 2322 is not compatible with the RocketRAID 2314MS (and vice versa).
WHERE TO BUY THE HIGHPOINT ROCKETRAID 2314MS or 2314
(Some of these Highpoint resellers may not have the RR2314MS in stock but they can order it.)
COMPATIBLE PM ENCLOSURES
We know the following enclosures to be compatible with the RocketRAID 2314MS:
PC-Pitstop's 5 and 10 bay enclosures

WiebeTech's SilverSATA series

LaCie's Biggest S2S

MacGurus' Burly PM Enclosure

Sonnet's Fusion D500P

CalDigit's S2VR HD
OTHER RAID 5 SOLUTIONS FOR MAC PROS
HighPoint has other host adapters besides the RR 2314MS that do RAID 5 and 50 at the card level:

WiebeTech's RTX 400 (UltraSCSI and iSCSI version)

CalDigit uses a combination of card and enclosure to achieve RAID 5 or RAID 6 with their HDPro product.
WHERE TO BUY SATA HARD DRIVES
Has Bare Feats helped you? How about helping Bare Feats?
© 2007 Rob Art Morgan
"BARE facts on Macintosh speed FEATS"
Email , the webmaster and mad scientist