With the strong trend toward more and more Serial ATA interfaced storage (both internal and external), FireWire storage seems to have become lost in the shuffle. Yet there are some strong advantages for using FireWire 800 based systems and quite a few companies still offer FireWire 800 products.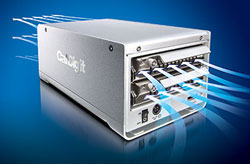 We tested the new CalDigit FireWireVR, a FireWire 800 enclosure that accepts two Serial ATA drives in its removable trays. It features a flow through ventilation design with a whisper quiet, ball bearing cooling fan. It uses the same rugged aluminum construction a their S2VR Duo, a dual drive enclosure we reviewed in November 2006.
A key feature that sets it apart from other dual drive FireWire 800 enclosures is the option to configure it as RAID 0, RAID 1 or JBOD (Just a Bunch of Disks). And instead of using a software based RAID manager, CalDigit lets you set the mode using a small dial between the power connection and FireWire ports.
The FireWireVR comes with pre-installed drives that have been tested and certified to handle three streams of 8 bit 720x576 SD video and seven streams of DV25 when connected to a FireWire 800 port. Though it includes a FireWire 400 port and a USB 2.0 port, you'll take a big hit in performance if you use them. The FireWireVR's power comes with an external power brick.
For performance perspective, we compared the sustained read/write speed of the FireWireVR in RAID 0 (Performance) mode to:
1. A SINGLE DRIVE running in JBOD mode inside the FireWireVR,
2. A Dual SATA HW RAID 0 -- using the WiebeTech SilverSATA II dual bay SATA enclosure with box level RAID 0 (connected to a four port SATA 3G PCIe host adapter in slot 4 of the Mac Pro), and
3. A Dual SATA SW RAID 0 -- using the FirmTek SeriTek/2EN2 dual bay SATA enclosure configured in software RAID 0 using Apple's Disk Utility (connected to a four port SATA 3G PCIe host adapter in slot 4 of the Mac Pro).
In all cases, the same Hitachi 7K500 500GB SATA 3G drives were used. The Mac Pro was our test "mule" for the four graphs you see below.







As you can see, the CalDigit FireWireVR not a "barn burner" in terms of speed when compared to an empty dual SATA HW or SW RAID 0 pair. Yet as the volumes fill up, the speed advantage of the SATA units disappears.
OTHER ADVANTAGES of FireWire 800
Storage choices are not just about speed. For Intel Mac owners, one of the frustrations is the inability to boot off of external SATA storage devices. That's "no problemo" for FireWire 800 enclosures like the CalDigit FireWireVR. Let's say you have Mac Pro and you want to use the four internal bays to form a four drive RAID 0 set. You need a fifth drive or volume for booting. An external bootable FW800 dual RAID 0 box like the FireWireVR would solve your problem.

Another advantage of FireWire 800 storage is the fact that all "premium" Macs have FireWIre 800 ports built in. That includes the Mac Pro, MacBook Pro, and Intel iMac. With SATA storage systems, you would need to buy a SATA host adapter for the Mac Pro and MacBook Pro. The Intel iMac has no place to install an adapter. With a FireWire 800 storage unit, it's truly "plug and play."

DIFFERENT PERFORMANCE ON DIFFERENT MACS
The graphs above reflect performance when the FireWireVR is connected to the FireWire 800 port of the Mac Pro. When we connected the FireWireVR to two other Macs, we got similar READ speeds but different WRITE speeds:

That means your MacBook Pro may have trouble handling 3 streams of 8 bit SD video.
CONCLUSION
I think the CalDigit FireWireVR is a solid piece of hardware that's quiet, reliable and versatile.
MEET THE COMPETITION
Though there are other choices for FireWire 800 multi-drive storage, some of them don't offer box level RAID 0 and/or RAID 1. Here's some examples of competing dual drive FireWire 800 storage systems:
GLYPH TECHNOLOGIES GT 062Q
GRANITE DIGITAL's FIREVue FireWire 800 Hot-Swap JBOD/RAID
G-TECH's G-RAID2
LA CIE's Big Disk Extreme
MACGURUS Burly Hotswap
OTHER WORLD COMPUTING Mercury Elite-AL Pro 800 RAID STRIPE
TRANSINTL miniG FW800
WIEBETECH's RAIDTech 800