Posted October 14th, 2005, by rob-ART morgan, mad scientist
The new miniG enclosures from TransIntl are compelling with "the look and feel" of the G5 Power Mac. They also look right at home connected to a G4 PowerBook. In this session, we tested the 1, 2, and 4 bay versions of the FireWire 800 miniG using the PowerBook and Power Mac.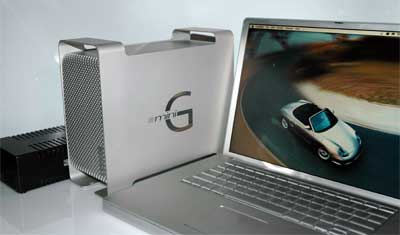 GRAPH LEGEND:
miniG4 = miniG four bay with four 7K500s
miniG2 = miniG two bay with two 7K500s
miniG1 = miniG one bay with one 7K500
Comp = a competitor's FireWire 800 single drive enclosure with one 7K500 -- since the miniG one bay only comes with a FireWire 400 port
FW400 = connected miniG to single FireWire 400 port
FW800 = connected miniG to single FireWire 800 port
SATA = connected miniG to SATA host adapter (one port per drive)

Though this article is about FireWire versions of the TransIntl miniG, we included the results from the two SATA versions of the miniG for those of you wondering how the two interfaces compare in speed.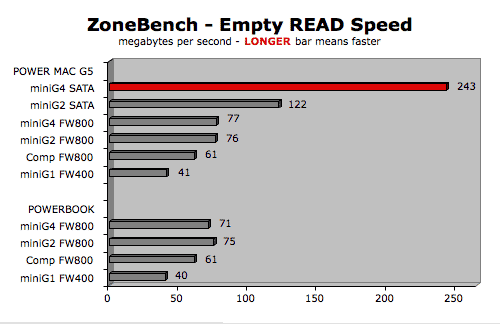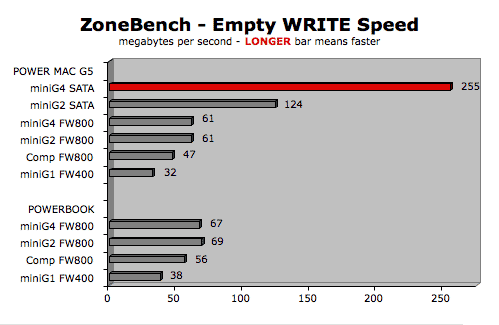 As usual, we know you want to know how fast the storage unit goes when the volume is almost FULL. So here's the transfer rates with the same volumes filled to 90% of capacity.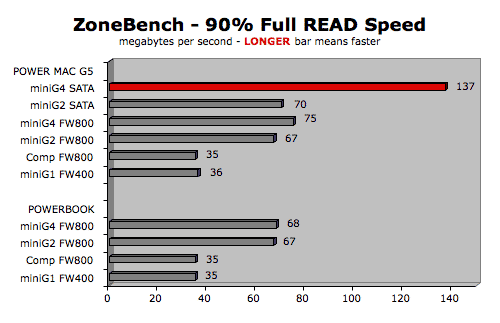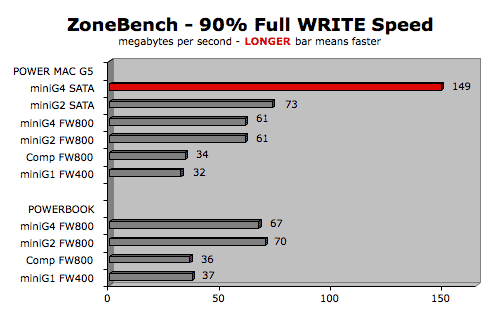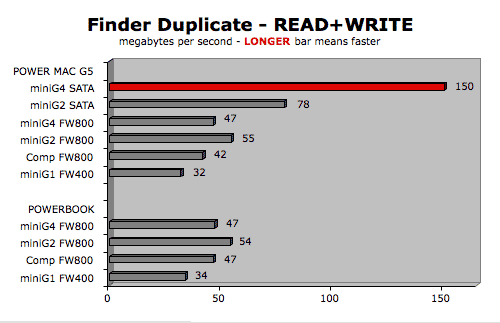 ANALYSIS
The line of TransIntl miniG enclosures are innovative in design, attractive in appearance, and rugged in construction. Whether used with a PowerBook or Power Mac, they look like they belong.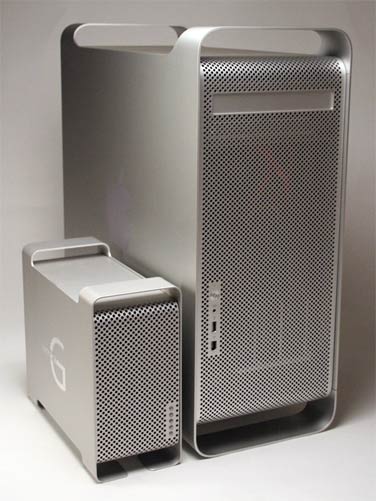 The FireWire 800 version of the two and four bay miniG uses hardware RAID 0 which is set inside the enclosure. To the OS X Disk Utility, it appears to be one large hard drive. We were disappointed that the single bay miniG only comes with a FireWire 400 port. The Hitachi 7K500 PATA drive is capable of speeds beyond what FireWire 400 can deliver. We illustrated the potential of a running a single drive with a FireWire 800 port in the graphs above with the entry labeled "Comp FW800."
The multi-bay FW800 miniGs tested in this session performed well, considering the two and four bay units were being "fed" through a single FireWire 800 channel/port. The fact that the two and four bay FW800 units didn't lose speed when filled to near capacity indicates that the single channel bandwidth is the bottleneck. At least you know that the transfer rates don't degrade as the volume fills up. (This phenom isn't unique to miniGs. ALL FireWire 800 RAID enclosures suffer from this since ALL only have a single input port.)
The SATA versions of the two and four bay miniG "scream" because they have plenty of bandwidth. Each drive has its own 150MB/s data channel. That's well and good for G5 Power Macs but the SATA interface options are currently quite limited for the PowerBook. Therefore the FireWire 800 multi-drive enclosures are still very useful and necessary to PowerBook users.
Note that the WRITE speed of the FireWire 800 enclosures is as good or better on the PowerBook as it is on the G5 Power Mac.
The miniG is very quiet and cool running due to the use of an external fanless power supply.
TEST HARDWARE
Testing was done with an Apple PowerBook G4/1.67GHz and a G5/2.5GHz Power Mac.
We tested all permutations of the TransIntl miniG populated with Hitachi 7K500 500GB 7200rpm 3.5 inch drives.
The SATA host adapter used with the SATA versions of the miniG was the FirmTek SeriTek/1eVE4. It's offered as an option direct from TransIntl and supports system booting as well as hot-swap.
TEST SOFTWARE
Intech's ZoneBench was used to generate the graphs above. It is an easy to use benchmarking tool that lets you quickly sample different zones in the RAID set. We set it up to sample 11 zones using a 100MB test file.
Finder Duplicate has proven to be a reliable predictor of performance level in the real world where you are reading from and writing to the same volume simultaneously. We use a single 1 gigabyte file. Formula is size / time * 2.
WHERE TO BUY THE miniG FireWire ENCLOSURES
TransIntl.com (FireWire 800 version available in two and four bay versions; FireWire 400 version features a single bay)
WHERE TO BUY OTHER FIREWIRE PRODUCTS
FWDepot (enclosures and host adapters)

Granite Digital (enclosures and host adapters)

LaCie (enclosures and host adapters)

Other World Computing (enclosures, bare drives, and host adapters)

Small Dog Electronics (enclosures)

Wiebetech.com (enclosures, docks, and host adapters)
Has Bare Feats helped you? How about helping Bare Feats?