Posted October 3rd, 2005, by rob-ART morgan, mad scientist
The new miniG SATA and FW800 enclosures from TransIntl caused quite a stir at the Boston MacWorld this summer. That's because they look just like a miniature G5 Power Mac. Even the packaging is reminiscent of the G5 Power Mac's box. Other enclosures use similar materials and coloring to the Power Mac but TransIntl has nailed "the look and feel."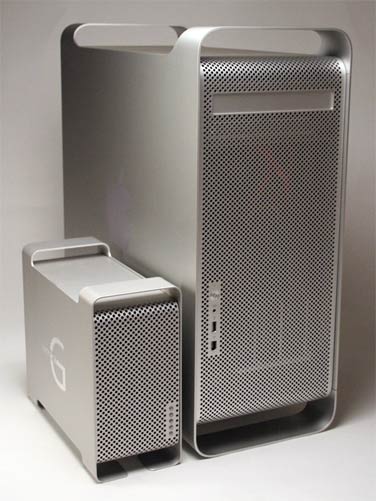 Though they make both SATA and FireWire 800 versions of this new enclosure with one, two and four bays, we were most interested in testing the four drive miniG Serial ATA enclosure with four of the new "size kings," the Hitachi 7K500s 500GB SATA II drive.
GRAPH LEGEND:
miniG4 = miniG four bay with four 7K500s
Swift4 = Swift Data 200 internal drive kit with four 7K500s (three in the CPU bay and one in the spare factory bay)


As usual, we know you want to know how fast the RAID set goes when the volume is almost FULL. So here's the transfer rates for at 90% capacity.


ANALYSIS
The miniG is a well built solid performer that looks great next to your G5 Power Mac. It is reasonably priced (with or without drives) and makes a great complement to the Swift Data 200 internal drive mounting kit, enabling you to have up to 9 drives total connected to your G5. If you prefer making your 8 drive RAID 0 set external, you can always use two miniGs.
The miniG is very quiet and cool running due to the use of an external fanless power supply. The power "brick" is large but you can hide it behind your 30" Cinema display so as not to disturb the "feng shui" of your work area.
One of the ways the miniG differs from the G5 tower is the lack of an easy access door or removable trays. If you need to replace a defective drive or upgrade the drives, you must disassemble it. But then Transintl's aggressive pricing makes "do-it-yourself" drive installing unnecessary. And contemporary drive failures are a rare event -- hopefully.
FIREWIRE 800 VERSION
If you prefer FireWire 800 to Serial ATA, TransIntl has you covered. Keep in mind, though, that the FireWire 800 miniG four bay has one port for all 4 drive bays. The SATA version has one port for each of the drive bays. That's the main reason SATA RAID systems run faster.
TEST HARDWARE
Testing was done with an Apple G5/2.5GHz Power Mac (8GB memory, Raptor 73GB boot drive.)
The TransIntl miniG four bay SATA enclosure populated with four 7K500 drives in combination with the TransIntl Swift Data 200 internal drive kit (which mounts three drives in the CPU bay. Counting a drive installed in the second factory drive bay, that gives you gives five total internal drives). The idea is to have one boot drive and eight drives in a RAID 0 array.
The SATA host adapters used were the FirmTek SeriTek/1eVE4 and SeriTek/1V4. TransIntl plans to offer the newest SeriTek/1eVE4 (eSATA ports) with the miniG four bay SATA enclosure.
TEST SOFTWARE
Intech's ZoneBench was used to generate the graphs above. It is an easy to use benchmarking tool that lets you quickly sample different zones in the RAID set. We set it up to sample 11 zones in 3 iterations using a 511MB test file.
WHERE TO BUY THE miniG SATA ENCLOSURES
TransIntl.com (miniG in two and four bay SATA; sell the Swift Data 200 internal drive kit; FireWire 800 version available in one, two, and four bay versions)
WHERE TO BUY OTHER SERIAL ATA PRODUCTS
FirmTek (host adapters and enclosures -- hot-swap and boot support)

FWDepot (enclosures and host adapters)

Granite Digital (enclosures and host adapters)

Kano Technologies (enclosures and host adapters)
Use "BAREFEATS" coupon code to get 10% off the X-SPAND or 5% off everything else

LaCie (enclosures and host adapters)

MacGurus (host adapters, enclosures, bare drives, coolers, and hot-swap trays)

MaxUpgrades (internal drive kits for G5 optical bay, CPU bay, and PCI bay)

Other World Computing (enclosures, bare drives, and host adapters)

Small Dog Electronics (enclosures and host adapters)

Sonnet Technology (hot-swap host adapters, and enclosures)

Wiebetech.com (enclosures and host adapters)
Has Bare Feats helped you? How about helping Bare Feats?