Originally posted July 23rd, 2004, by rob-ART morgan, mad scientist
QUESTION: There are great kits for INTERNAL SATA RAID systems but what if I want an affordable EXTERNAL SATA box?
The answer is, there is an external solution from MacGurus called the "Burly Box."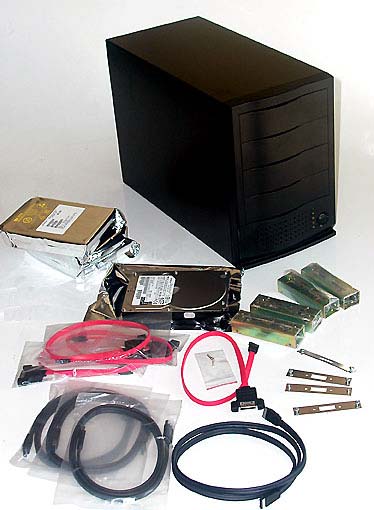 It is a rugged if not elegant box. It comes with all the hardware you need to mount and connect up to four SATA drives. My favorite feature is the two fans (one to cool the drives and one to cool the internal power supply). Both fans are QUIET. I've tested other external boxes (FW800 and SATA), but they all had very noisy fans. These are so quiet, you can't hear them above the fans of the G5 Power Mac.
The $215 base price makes it very affordable to those on a budget. I would probably spend the extra money for removable trays like the one you see below. It makes switching drives easier, especially if you are running RAID 3 or 5 where one bad "apple" doesn't spoil the "bunch." You can change a bad drive on the fly without opening the box or shutting down your Power Mac.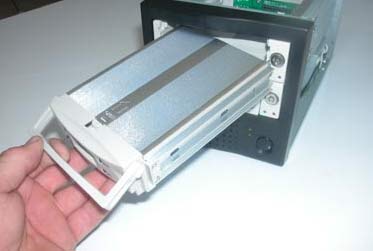 If you are running 10,000 RPM Raptor drives, they tend to run hot. Never fear. MacGurus has a special optional, Ultimate Drive Cooler for those drives which features two small fans blowing over a special heatsink.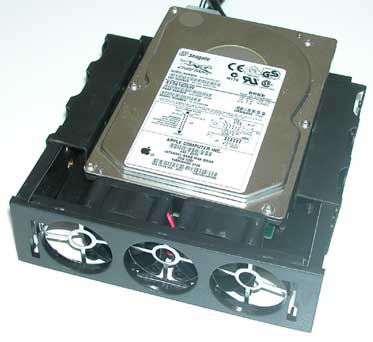 The only caveat to any external SATA storage solution is the SATA PCI controller choices. As of this writing, all SATA controllers have INTERNAL ports. The only way to send the data to an external SATA box is to route the cables through an empty PCI slot (non-standard) or use a special bracket that converts internal ports to external (technically non-standard but more elegant).
Another SATA standard is that external cables should have heavier shielding than internal cables. But if you use those thicker, stiffer external cables to connect to internal ports, there's a danger than they will break off the SATA ports on the PCI card (or SATA drive) if torqued just right. External cables should be connected external ports designed to handle the torque (and hold the cable tightly).
That situation will change very soon. There are new PCI controllers coming from at least two sources that will feature EXTERNAL PCI ports. More importantly, the forthcoming PCI SATA controllers will have 4 or 5 channels (and ports) that will provide maximum speed to EXTERNAL and internal SATA RAID sets. More importantly, these new controllers will solve the problem for G5 Power Mac owners who are trying to get maximum capture (write) speed using a DeckLink (or similar board) in conjunction with a SATA controller -- by using only one slot.
Keep watching this page or Quick Takes for an announcement as soon as those new PCI SATA controllers are shipping.



SOURCES OF TEST PRODUCTS
The test "mule" was our trusty G5/2.0GHz MP Power Mac purchased from Small Dog Electronics.
The Burly Box eval unit was provided by MacGurus. They also have the trays, coolers, cables, controllers, and drives.

The two SATA PCI controllers used in testing were FirmTek dual channel SeriTek 1S2.

We now recommend either Maxtor DiamondMax Plus 9 or Seagate 7200.7 SATA drives, since, in our large block transfer test, they performed better than the Hitachi and Western Digital drives, especially as the RAID volume filled up.

The four Maxtors produced the fastest WRITE speed (292MB/s). The Seagates had the fastest READ speed (230MB/s). For more data on performance of various SATA brands, see our recent article on Four SATA RAID. See links below for online sources of the Maxtor and Seagate drives.
If you are shopping for SATA drives, controllers, converters, mounting kits, or enclosures, be sure to check pricing and availability at the following websites:
Has Bare Feats helped you? How about helping Bare Feats?