Originally posted 09/10/03 by rob-ART morgan, mad scientist
This is PAGE TWO shows the REAL WORLD test results of the various pairs of Serial ATA drives in RAID 0 (striped) configuration. See the TEST NOTES for details on the drives.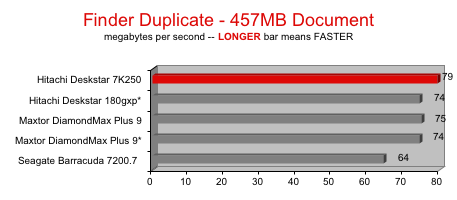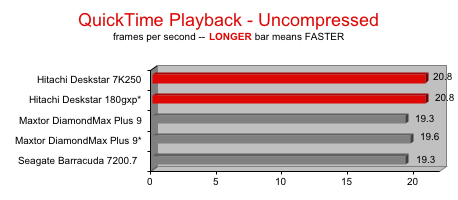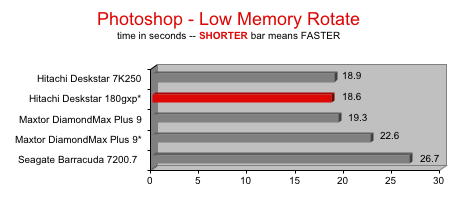 (Drives with "*" have been converted from PATA to SATA.)
ANALYSIS
The Hitachi Deskstar 7K250 RAID 0 pair was fastest overall in the Real World tests. It came in first on the Finder Duplicate and QuickTime Playback tests. It was a close second on the Photoshop Scratch test. It was fastest in the QuickBench benchmark Sustained Read.
The Maxtor DiamondMax Plus 9 RAID 0 pair was fastest overall in the QuickBench benchmark tests. It was first (or tied for first) in Sustained Write, Sustained Read, and Random Write.
The Seagate Barracuda 7200.7 RAID 0 pair, though no slouch, came in third compared to the two "native" SATA drives above. The exception was the Random Read test where it came in first.
The "PATA" drives we converted to "SATA" with the Addonics adapter did very well. The converted Hitachi 180gxp RAID 0 pair beat or tied the fastest "native" SATA drives in 2 out of 3 Real World tests. The converted Maxtor drive beat the "native" Maxtor SATA drive in two tests.
The only downside with using the Addonics adapter is that you can't close the door on the G4 tower. I've suggested a simple design change to the company that would make the adapter more viable as a way to convert existing internal drives to SATA. Until then, they will need to remain as PATA drives or be put outside the box in a FireWire 800 enclosure.

If you are buying a G5 and need more than two drives or are wanting to keep the drives you have, the best short term option is putting them in a FireWire 800 enclosure. However, expect some SATA products to appear that enable you to put extra SATA drives (or converted PATA-to-SATA drives) outside the G5 tower.
RELATED ARTICLES or LINKS
Single SATA drives compared (Hitachi, Maxtor, Seagate).
How much do drives slow down when they fill up?
SATA versus PATA vs FireWire 800
Four drive, four channel RAID shootout between Ultra ATA133, FireWire 800 and Ultra320 SCSI.
TEST NOTES
The Power Mac G4/1.42MP with 2GB of DDR memory and OS X (10.2.6) was the test mule. It was purchased from Small Dog Electronics.
CONTROLLER
The dual channel SeriTek/1S2 Serial ATA PCI host adapter from FirmTek (5.0.2 of the firmware). For your G5 tower, you need firmware version 5.0.3. This can be ordered direct from FirmTek.
DRIVES TESTED
Hitachi Deskstar 7K250 250GB Serial ATA version
Maxtor DiamondMax Plus 9 160GB Serial ATA version
Seagate Barracuda 7200.7 160GB Serial ATA version (This drive was also the one Apple ships from the factory inside the G5/1.8GHz tower.)
Hitachi Deskstar 180GXP 180GB Parallel ATA-100 version with Addonics Serial ATA adapter.
Maxtor DiamondMax Plus 9 160GB Parallel ATA-133 version with Addonics Serial ATA adapter.
Good sources for buying Serial ATA drives include Buy.com and GoogleGear. (Search on key word like "7K250" or "DiamondMax" or "Barracuda".)
SEE "HOW WE TEST" for details on the tests reflected in the graphs.