Posted Friday, October 23rd, 2009, by rob-ART morgan, mad scientist.
Everybody's going nuts over SSDs. Many readers have reported using SSDs for boot drives or RAID sets in their Mac Pro. Then there's those sassy 2.5" 15K Savio SAS drives from Seagate. Though blazingly fast, those 'low capacity' drives can "burn up" the factory sleds slots in a hurry while leaving you wanting more storage capacity. Other than using the empty optical bay, don't you wish there was a way to mount more than four drives in the PCIe bay? Wish no more.
The TransIntl DX4 Mounting Station enables you to mount up to four 2.5 inch form factor SSDs or HDDs while only using up one factory sled slot: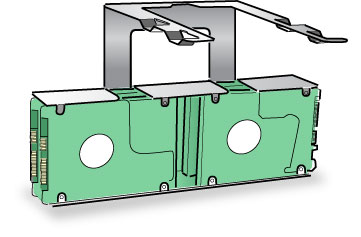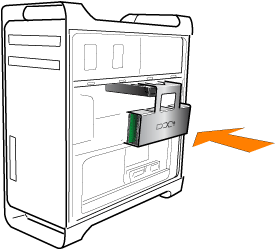 Using the DX4, you can mount a total of eight drives in Mac Pro's PCIe bay without crowding any PCIe cards including the high-end GPUs. We tested three scenarios for your viewing pleasure.




EXPLANATION of GRAPHS
SSD*4 = Four OCZ Vertex 256G SSDs in a RAID 0 set connected to a HighPoint RocketRAID 2310
SSD*2 = Two OCZ Vertex 256G SSDs in a RAID 0 set connected to a HighPoint RocketRAID 2310
Savio*2 = Two Seagate Savio 15K.2 145G SAS drives in a RAID 0 set connected to a HighPoint RocketRAID 2640
Test software used: QuickBench 4.0.4 and DiskTester 2.0
Test Mule: Mac Pro Nehalem 2.93GHz octo-core
SUMMARY
The TransIntl DX4 Mounting Station is yet another example third party ingenuity. The four factory sleds that come with the Mac Pro are nicely designed, but power users are always looking for ways to "cheat elegantly." The DX4 makes clever use of empty space between the side cover and the PCIe cards.
The sled is especially useful for sqeezing out the maximum speed out of 2.5" SSDs. In earlier articles, we mounted SSDs on the factory sleds of the 2009 Mac Pro using the the built-in controller. Four of them maxed out at 635MB/s. By mounting them on the DX4 and connecting to a third party RAID card, we were able reach has high as 809MB/s with the four SSDs while still having room for 4 internal 3.5" HDDs.
Perfect for film, video, music, scratch areas, caching, data protection, and other drive-intensive operations, the DX4 lets the power user break through the "only 4 drives internally" restriction.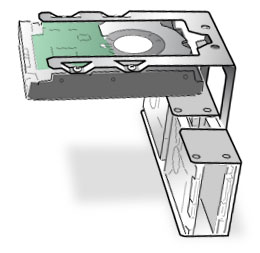 NOTE: As you can see in the illustration above, in addition to the four 2.5" drives, you can mount a 3.5" drive on the DX4. Combining the DX4 Mounting Station and Pro Caddy 2, you can cram up to 14 terabytes of data storage inside your Mac Pro.
KEY FEATURES OF THE DX4
WHERE TO BUY THE TRANSINTL DX4:
You can order the DX4 mounting solution direct from TransInt. Ask them about the Pro Caddy 2.
WHERE TO BUY SPECIAL SLED KITS
(The Nehalem Mac Pro has been "crippled" so it only works with Apple's Pro RAID card. If you want to use a third party host adapter with internal SATA or SAS drives, you need a special sled kit that bypasses the backplane data ports. Contact the following companies for such kits.)