Posted Friday, August 14, 2009, by rob-ART morgan, mad scientist.
There is good news for those of you who need massive storage that's fast and affordable. We are speaking of Stardom's SOHOTANK ST8-S2P. It features dual eSATA ports feeding four drives each (Port-Multiplication).
Though Port-Multiplication typically lets you connect up to 5 drives to one eSATA port and/or data channel, the set of drives connected to that channel are limited to about 220MB/s no matter how fast the drives may be. But with two ports feeding two sets of 4 drives, the ST8-SP can attain as high as 440MB/s. For those doing video capture of uncompressed HD, that puts you well beyond the magical 267MB/s target with headroom to spare.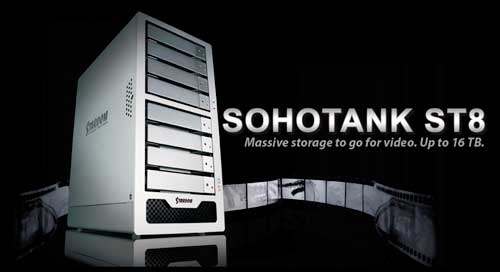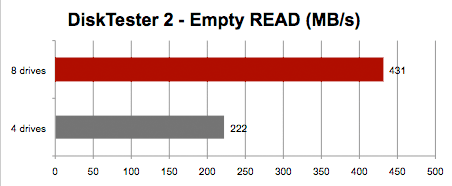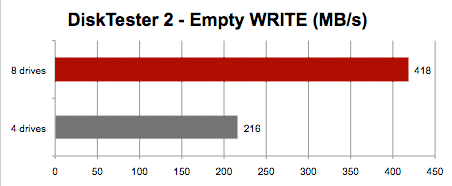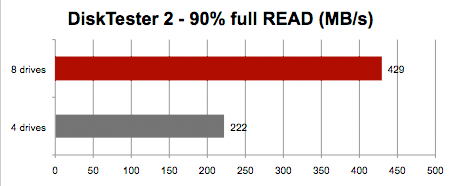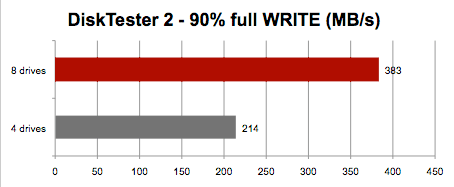 EXPLANATION of GRAPHS

8 drives = SOHOTANK ST8-S2P with four Seagate 7200.11 plus four Seagate 7200.12 drives in a RAID 0 set connected to two ports of the SJ20-x8 adapter (slot 2).
4 drives = SOHOTANK ST8-S2P with four Seagate Barracuda 7200.11s in a RAID 0 set connected to one port of the SJ20-x8 adapter (slot 2).
ANALYSIS
The Stardom SOHOTANK ST8-S2P performed as we expected. We attained 400+MB/s using eight Seagate Barracuda 7200rpm SATA drives in a RAID 0 set. Since the drives used are capable of much higher speeds collectively than that, you will notice the slowdown was minimal when the volume was at 90% capacity. Though we used 1TB drives, if you use 2TB drives, your total storage will be 16 TeraBytes.
We were impressed with the compact, clean design of the aluminum clad ST8 which coordinates nicely with look and feel of the Mac Pro. At 11 inches tall by 5.6 inches wide by 9 inches deep, it's the most compact eight drive system we have tested to date. (282mm by 142mm by 228mm)
Two large, quiet, ball bearing fans cool the eight drives with a third quiet fan cooling the built-in power supply. The drive trays are designed so you don't accidentally eject a tray, thereby corrupting your RAID set. It even has a handle on top for portability.
Though our ST8-S2P test unit had dual eSATA ports, there is also an ST8-U5 model with dual mini-SAS ports. That version will accept both SATA and SAS drives and should have the potential to attain speeds in excess of 800MB/s. See Stardom's comparison chart for the specs on different models of SOHOTANK ST8.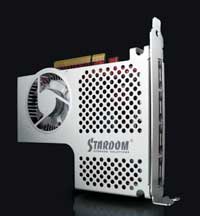 We used Stardom's SJ20-x8 (4 port) eSATA host adapter for our testing. It has a Silicon Image based chipset that uses the generic Sil-3124 driver which is shipped with the SJ20-x8 on a CD.
NOT JUST FOR VIDEO/AUDIO CAPTURE
There is no substitute for regular backups using Time Machine or some other backup strategy. Many of you have reported that you use all four internal drive bays of the Mac Pro for for dedicated high speed storage. Some of you install up to eight internal drives by using the optical bay(s). An external storage device such as the SOHOTANK ST8 would make a great backup storage device.
WHERE TO BUY THE STARDOM SOHOTANK ST8-S2P (and SJ20-X8 adapter):
Order it from Other World Computing or TransIntl.com. (If it's not listed on their site yet, ask them about it anyway.)
WHERE TO BUY HARD DISK DRIVES and SOLID STATE DRIVES: