TEST SCENARIO
We used the Kona System Test for empty RAID 0 and RAID 5 sets. We used Disktester to simulate a RAID 0 and 5 set that was almost filled (90%) to show how transfer speed slows when near capacity. This second test is what you need to consider when deciding how many drives you need to maintain your target transfer rate no matter how much data you've stored.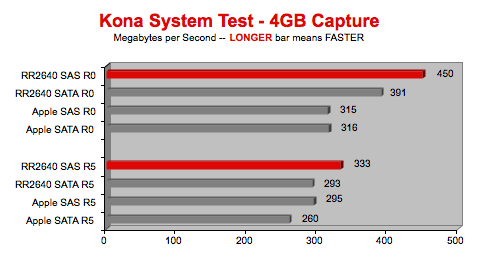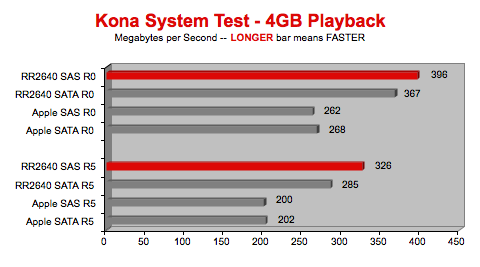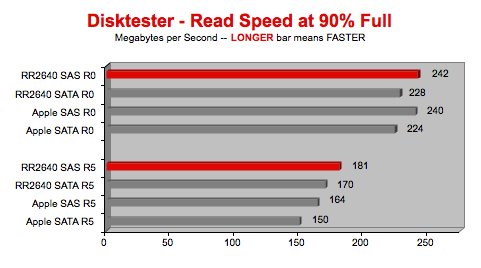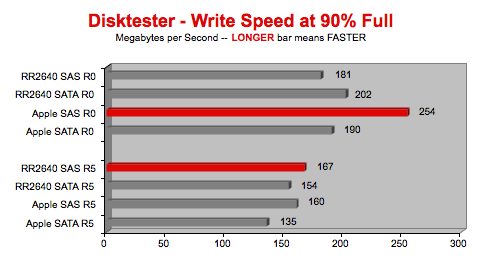 GRAPH LEGEND
RR2640 = HighPoint RocketRAID 2640X4
Apple = Apple Pro RAID
SAS = Seagate Barracuda 7K 1TB ES.2 Serial Attached SCSI
SATA = Seagate Barracuda 7K 1TB 7200.11 Serial ATA
R0 = RAID 0 (four drives)
R5 = RAID 5 (four drives)
ANALYSIS and COMMENTS
The HighPoint RocketRAID 2640X4's maximum transfer rate is much higher than the Apple Pro RAID, though the gap shrinks as you fill up the RAID set. The kicker is that the Apple Pro RAID costs 4 times as much ($800 vs $200). We have to say that the RocketRAID 2640X4 sets a new standard for price versus performance.
Another speed advantage is the initialization of RAID 5 arrays. The Apple Pro RAID card took 14 hours to complete initialization. The RocketRAID 2640X4 took a matter of seconds.
Though the RR2640X4 handles both SATA and SAS drives, it does require that you use a mini-SAS to SATA cable adapter (which we obtained from MaxUpgrades).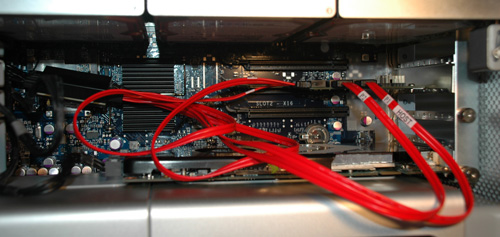 The RR2640X4 does not offer a battery backup which comes standard on the Apple Pro RAID card.
I think Apple needs to go back to the drawing board and come up with a RAID card with bandwidth that supports the speed four SATA or SAS drives are capable of producing. If I'm going to pay $800, I should be able to squeeze out all the speed of my drives.
SAS versus SATA
We purposely used SAS and SATA drives that were comparable mechanically to show that SAS is only slightly faster than SATA, all things being equal.
HOW ABOUT 15K SAS?
We had an opportunity to test two Seagate 15K.6 Cheetah 450GB SAS drives with the RR2640X4. Though we would have loved to have four to test, we can extrapolate that they have the potential of attaining 660 MB/s in a RAID 0 set of four. Again, Apple has work to do to tap the full potential of these new, hot drives with their RAID card -- which currently hits the wall at 320MB/s.
We were able to test four 15K Fujitsu 73GB drives on the RocketRAID 2640X4. They measured 470MB/s+ READ/WRITE when empty. (We have no figures for the Apple Pro RAID card but, once again, 320MB/s is the max you will see.)
Stay tuned for a report on dual drive RAID sets comparing the new Cheetah with the Velociraptor and the fastest 7K SATA and SAS drives. Also, stay tuned for a review of the CalDigit RAID card which supports up to 16 SATA drives.