HighPoint is courting MAC USERS
HighPoint is continuing to show a strong commitment to provide feature rich SATA RAID host adapters to the Mac community. They even created a special "Mac only" website. Their latest Rocket RAID card, the 3522, is no exception. It is the most advanced Mac compatible 3G SATA RAID card they have produced to date.
KEY FEATURES of the RR3522
1. The RocketRAID 3522 (RR3522) uses the Intel IOP341 running at 800MHz with Multiple ADMA engines. It has 256MB DDR2 cache memory with ECC (533MHz). This "core" provides enhanced RAID 5 and 6 performance as well as improved overall Mac Pro performance due to less host CPU utilization.

2. Rated as an 8 lane PCIe 1.0 card, it is compatible with all PCIe slots on all models of Mac Pro from 2006 through 2008. It will also work in the Intel Xserve with PCIe slots and the G5 Power Mac with PCIe slots.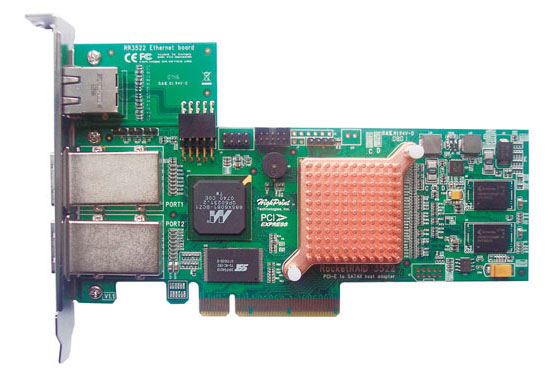 3. It sports two external Mini-SAS connnectors that support up to 8 drives. The idea is to eliminate the "octopus" look with eight individual SATA cables hanging out the back of your Mac. It also solves the problem of trying to squeeze 8 ports on the card's end plate. You must order them separately but HighPoint makes special cables with Mini-SAS at one end and four eSATA connectors at the other.

This is not a port-multiplier adapter so your external enclosures need to have one eSATA port per drive. This is a good thing because it means you will achieve maximum throughput to each drive (300MB/s per channel) and won't have to settle for the bottleneck inherent in port-mulitiplication (230MB/s per channel shared by four or five drives).

4. What if you want more than 8 drives in your RAID set? In the previous models of Rocket RAID, you could only have one card installed in your Mac Pro or Power Mac. The RR3522 will happily coexist with a second RR3522. Even if you have to use a 4 lane PCIe slot one or both cards, this will not prevent you from achieving maximum throughput. That's because each PCIe 1.0 lane carries 250MB/s. That computes to 1000MB/s in the case of a 4 lane slot.

5. The RR3522 features the same RAID configurations as other RocketRAID cards (0, 1, 5, 10, 50, or JBOD). HighPoint has added two new RAID levels:
a) RAID 3 -- Striped set with dedicated parity. This mechanism provides an improved performance and fault tolerance similar to RAID 5, but with a dedicated parity disk rather than rotated parity stripes.
b) RAID 6 -- Striped set with dual parity. Provides fault tolerance from two drive failures; array continues to operate with up to two failed drives.
(For more info, read the Wikipedia article on RAID.)

6. Whether you are a one-person shop or large business, you're going to appreciate the "Out of Band" Support feature using the dedicated LAN port. Using Simple Network Managment Protocol (SNMP), it enables you to remotely access the RR3522 to check the "health" log or troubleshoot the RAID set even if the OS won't boot.

The RR3522 has WebGUI embedded into physical firmware which is independent from host system. In other words, even when the system is down (but powered applied), you can still remotely troubleshoot or rebuild the RAID storage system after checking the event logs perserved by non-volatile RAM. The idea is that a VAR or consultant can provide support to their clients without actually being present at the client site. And with authentication, authorization and encryption, the support staff is able to connect safely and securely.

An how do you know there's a problem when you are off site? Simple. The RR3522 uses Simple Mail Transport Protocol (SMTP) along with SNMP to trap the error and notify you during RAID system operation.

7. One more thing. HighPoint is one of only three companies* that make 3G SATA host adapters for the Mac Pro that boot Mac OS X. The RR3522 will boot from either a RAID set or a single drive.

But.... the RR3522 currently only has the 32-bit EFI driver in the ROM. That means it can only boot Mac OS X on a 2006/2007 Mac Pro. That's going to change soon as the HighPoint engineers add the 64-bit EFI driver. Once that's done, the owners of 2008 Mac Pros can boot OS X as well.
Of course, the RR3522 at $560 is overkill if your only use of the host adapter is for a single or double external boot drive. Lest I digress too far afield, see the WHERE TO BUY section for some lower cost booting solutions.**
FLASH: Ask your favorite HighPoint reseller about the $100 rebate on the RocketRAID 3522 starting on Monday, March 17th, 2008.
WAIT. THERE'S MORE
There are other features that we haven't listed that are common to most HighPoint RocketRAID cards. We're referring to things like hot-swap, hot-spare, S.M.A.R.T. Ędrive "health" monitoring and logging, staggered drive spin-up, NCQ support, and automatic rebuild of degraded array when a defective drive is replaced.
For full details on features, see the RocketRAID 3522 Details Page.
WHAT ABOUT SPEED TEST DATA?
We are planning a follow-up article in about a week where we will document the relative speed achieved by each of the RAID "flavors" using eight of the fastest 3G SATA drives (the 1TB Samsung Spinpoint F1).