SPECIAL FEATURE

March 21st, 2007
written by Betty Morgan, "special features editor"
REVIEW: Joby Gorillapod SLR-Zoom

Tripod Replacement... "It's Alive!"
This little animal will make your tripod experiences fun, practical and innovative! Haven't you had times when you want to be in a family photograph and use a remote, but you have no tripod? I've balanced my Nikon D80 on boxes, books, tops of cars, and it's never exactly at the right angle. Or I wanted to take a long exposure night shot, but I forgot to attach my travel tripod to the camera case. Well, the bulky tripod with its intensive set-up detail is gone forever! Those special angle shots, hiking shots and long exposure shots will NEVER be missed now that my camera bag includes the Gorillapod SLR-Zoom.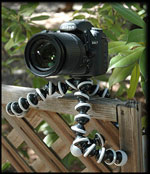 Joby has made my camera gadget bag lighter and my set-up faster by creating a mini-tripod, the Gorillapod SLR-Zoom. It's super strong, flexible, jointed, movable arms allow me to mount and/or attach my Nikon D80 to trees, fences or just about anything to get a great photograph. The entire unit weighs 6.7 ounces and is easier to transport and set up than a traditional tripod.
Other Uses
The Gorillapod SLR-Zoom can even carry the weight of my Sony DCR-TRV900 video camera. This makes it easy for parties because it can sit right on a coffee table or bookshelf and record without worrying about someone tripping over the tripod legs of a traditional tripod. I even secured it to a porch railing overlooking a Super Soaker match between Grandpa Rob-ART and his grandson, Rob-ED.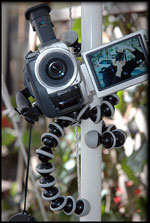 Another interesting mounting for the Gorillapod SLR-Zoom and my Sony Video camera was a pillar in our church that was higher than the crowd and allowed me to use a remote to zoom and pause at will! And no one even knew that filming was going on...
On a light table I use the Gorillapod for those macro shots that need extra stability and longer exposures.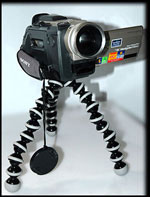 Features of the Gorillapod SLR-Zoom
Capacity: Tripod mountable cameras and professional tripod heads
Max Camera Weight: 6.6 pounds
Size: 9.8"x2.4"x2.4"
Weight: 6.7 ounces
So leave that clumsy travel tripod at home and tuck the Gorillapod SLR-Zoom into your camera bag to always have it handy for that tricky photography shot. We highly recommend it.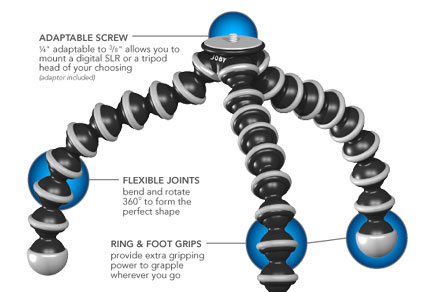 Where To Buy The Gorillapod SLR-Zoom (GP3-01EN)
Amazon.com has the Joby GP3-01EN Gorillapod SLR-Zoom Flexible Tripod for a $43 with FREE shipping. They sell both new and used.
Two other recommended versions of the Gorillapod:
DSLR cameras that don't use long lenses, you can order the Joby GP2-00EN Gorillapod Flexible Tripod for Digital SLR Cameras
with the extra SLR Clip for $5.00 and the Flash Clip for $5.00. This way you can use the Gorillapod with your flash attached or your camera... great for setting up backlit interior shots.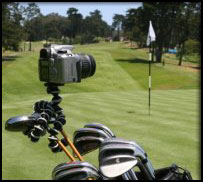 Specifications
Capacity: SLR-type cameras & camcorders
Max Weight: 800g (1.75 lbs)
Size: 250 x 50 x 50mm (9.8 x 2 x 2")
Weight: 165g (5.8 oz)
Cost: $36 (Amazon)
For the compact digital cameras you will want to order the Original Joby GP1-00EN Gorillapod Flexible Tripod with the extra clip for easy attaching.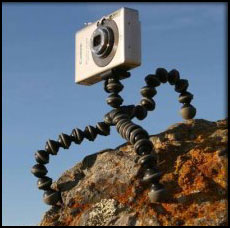 Specifications
Capacity: Compact digital cameras
Max Weight: 275g (9.7 oz)
Size: 150 x 30 x 30mm (5.9 x 1.2 x 1.2")
Weight: 45g (1.6 oz)
Cost: $17 (Amazon)