MAD SCIENCE: FireGL X3 Converted To A
Radeon X800 for G4 Power Macs

Originally posted April 12th, 2005, by rob-ART morgan, mad scientist

One of my remote mad scientists converted a FireGL X3 (256MB) for Windows PC into a Mac compatible board. It has the same core clock, same memory speed, and same 16 pipelines as the Radeon X800 XT for Mac. He also taped over two leads on the AGP edge connector so it could run on 4X rated slots. Wouldn't it be nice if you could have a Radeon X800 XT running on your G4 Power Mac?
We decided to compare its performance against the fastest Mac compatible graphics card you can buy for your G4 Power Mac, the Radeon 9800 Pro (128M) 2X/4X AGP card. We tested both Doom 3 and Halo at high quality settings. We used resolutions ranging from 800x600 to 1920x1200. We graphed the performance of the two cards running on at G4/1.42GHz MP Power Mac.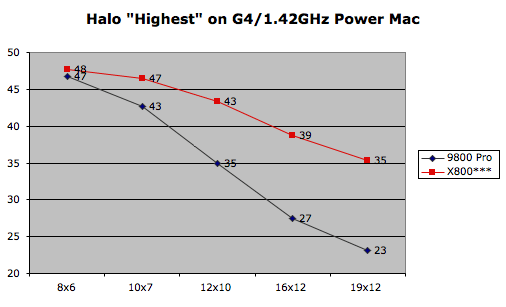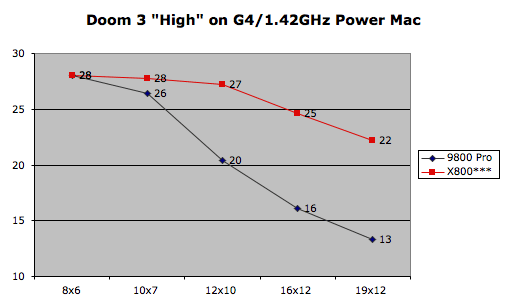 As you can see, the two cards start off at virtually identical framerates. But as the resolution climbs, the Radeon 9800 Pro falls way behind the converted FireGL X3 (aka X800***). That is as it should be, since the X800 has twice the memory, faster core clock, faster memory clock, and more pipelines.
BONUS
A bonus feature of the FireGL X3 is that it supports dual-link DVI. That means you can use it to drive a 30" Cinema display.
MORE TO COME
This is just the start of the fun. Next we will test the converted FireGL X3 on a QuickSilver Power Mac with the GigaDesigns 2GHz G4 upgrade.
Then we will test it against a "real" Radeon X800 XT Mac Edition on our G5/2.0 and 2.5GHz Power Macs. So stay tuned.
WHERE DO I GET ONE?
In case you don't have a spare FireGL X3 lying around your office, the running $820 at ZipZoomFly.com. That compares to $500 for an X800 XT Mac Edition, though it only runs on a G5. You might want to watch for a used one being auctioned off on eBay.
As for converting an X3 to run on a G4 tower, you're on your own since we don't promote doing that on this site.
WHERE TO BUY VARIOUS GRAPHICS CARDS FOR YOUR POWER MAC and MAC PRO
For your Mac Pro, you have the following 16X PCI Express (PCIe) options:
The GeForce 7300 GT (16X, 256MB, dual-link DVI + single-link DVI port) is the default. We recommend the Radeon X1900 XT (16X, 512MB, two dual-link DVI ports) as a CTO option. It's much faster than the GeForce 7300 GT and just as fast as the expensive Quadro FX 4500. According to Alias/Autodesk, the X1900 XT is the only graphics card without limitations when using Maya 8.5. To custom order your Mac Pro with the Radeon X1900 XT, go to the Apple Store and click on the Mac Pro graphic.
If you didn't order the Radeon X1900 XT with your Mac Pro, you can order the Radeon X1900 XT as an aftermarket kit for your Mac Pro, go to the Apple Store and click on DISPLAYS in the left margin or do a search on "X1900."
NOTE: Mac Pro PCIe graphics cards will not work in Power Mac G5s with PCIe slots -- and vice versa. Nor will Windows PC PCIe graphics cards work in the Mac Pro.
Graphics Card Options for the Dual-Core or Quad-Core G5 with 16X PCI Express slot:
The best option for your Dual-Core or Quad-Core G5 with PCIe slots is the ATI Radeon X1900 G5 Mac Edition released in November 2006. You can buy it directly from ATI's Online Store for $299 (with "trade up" allowance).
It's also sold by Small Dog Electronics and Other World Computing.
The following cards only work on a G5 Power Mac with 8X AGP slot:
The "G5 only" Radeon X800 XT Mac Edition (8X AGP, 256MB, ADC + Dual-Link DVI port) is available from ATI Online Store, Apple's Online Store, Buy.com, Other World Computing, and Small Dog Electronics. (The MSRP is $299)
Apple's Online Store is no longer selling the GeForce 6800 GT or Ultra, which had Dual-Dual-Link DVI ports (for two 30" Cinemas).
The "G5 only" Radeon 9800 Pro Mac Special Edition (8X AGP, 256MB, ADC + DVI port) is no longer made by ATI.
The following cards work on both the G5 Power Mac (8X AGP) and G4 Power Macs with 2X or 4X AGP:
Other World Computing has the new ATI Radeon 9800 Pro Mac (2X/4X AGP, 256MB, DVI + VGA ports) graphics card in stock for $259. ATI has it on their Online Store for $249. The SKU number is 100-435058, in case you want to make sure you are getting the right card.
WHERE TO ORDER YOUR APPLE PRODUCTS
When ordering products from Apple Store USA, please click THIS TEXT LINK or any Apple display ad as your "portal" to the online store. In so doing, you help to support Bare Feats. (DON'T LIVE in the USA? See links for Apple online stores in other countries.)

For new and refurbished G5 Power Macs, check with Small Dog and Power Max.
Has Bare Feats helped you? How about helping Bare Feats?
© 2005 Rob Art Morgan
"BARE facts on Macintosh speed FEATS"
Email , the webmaster and mad scientist