Originally posted 04/16/04 by rob-ART morgan, mad scientist.
The LaCie Big Disk Extreme is a significant FireWire 800 product in two ways:
1. Its bridgeboard uses the new Oxford 912 bridge chip, which reportedly offers better performance on a single channel over the Oxford 922.
2. It offers the largest capacity (500GB) to date for "turn key" FireWire 800 solutions. A 500GB drive? Not exactly. LaCie installs a pair of 250GB PATA drives in a single enclosure along with a special bridgeboard that creates an "automatic" RAID 0, thereby producing the 500GB rating.
The BIG question: Is it faster than just striping two single "conventional" FireWire 800 enclosures?
Normally, we would have used Hitachi 7K250s in the standard FireWire 800 enclosures. But since our LaCie Big Disk Extreme test units came with Maxtor MaxLine Pro II drives, we decided to use the same drives in the competing Oxford 922 enclosures.
Also, since each Big Disk Extreme contains two drives, in the same spirit of fairness, we tested against two conventional FW800 enclosures (ie. two drives). When we tested with two Extremes, we compared them to four conventional FW800 enclosures. Make sense?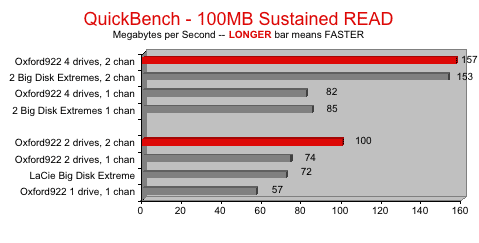 LEGEND:
1chan= one channel (built-in FW800)
2chan= two channels for each drive (built-in FW800 plus one FW800 PCI card)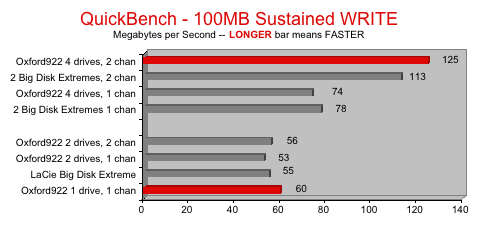 INSIGHTS:
The Big Disk Extreme did exhibit a slight WRITE speed advantage over two conventional drives when both ran on a single channel, which tends to support Oxford Semiconductor's claim that the 912 bridge chip provides more bandwidth than the 922 chip. But when we put the two 922 based enclosures on separate channels, they ran faster.
When we used Apple's Disk Utility's RAID 0 function to stripe a pair of Big Disk Extremes versus four drives in Oxford 922 enclosures, the LaCie was slightly faster again -- on one channel. But when we put both subsystems on dual channels, the LaCie fell behind. Though we didn't show it in the graphs, if you put the four drives in Oxford 922 enclosures on FOUR channels, the "ran off and hid." Dual Big Disk Extremes are limited to two channels.
As stated in the beginning, we used Maxtor Maxline Pro II drives in all the above test scenarios. When we put our "preferred" Hitachi 7K250s in the Oxford 922 cases, they ran faster than the Big Disk Extreme in ALL tests. We mention that because normally, we recommend the Hitachi 7K250 or 7K400 for FireWire 800 enclosure kits. But Hitachi drives are not available in LaCie enclosures at this time. If you order a Big Disk Exteme, it will ship with either Maxtor or Western Digital drives.
Let me put it another way. If you had a Big Disk Extreme enclosure with two Hitachi 7K400s, you would not only have 800GB of storage, but it would run 5 to 10% faster than the current 500GB model. I wouldn't be surprised if LaCie offers this option in the near future.

Stay tuned, also, for an upcoming article called, "What's the best performing drive to use in your FireWire 800 case?"
Besides the slight write speed advantage on single channel, I perceive another advantage for the Big Disk Extreme product: having large storage capacity in one FireWire 800 enclosure instead of two, using one data cable instead of two, and using one external power supply instead of two. This should be popular to those consumers who travel with their FireWire 800 drives or move them around a lot.
WHY DID YOU TEST ON A G4 INSTEAD OF G5?
Because the G5 has "PROBlems" with striped RAID sets using FireWire 800 enclosures. The WRITE speeds are as much as half of what you'll see on a G4 Power Mac (and PowerBook). For more on this, see these articles:
FireWire 800 Mysteries Solved
Four Drive RAID on a G5
As for the Big Disk Extreme's performance on the G5 Power Mac, when single box was used, the WRITE performance was 10% faster on the G4 Power Mac and PowerBook. But when TWO Big Disk Extremes were run on the G5 Power Mac using single or dual channels, the WRITE speed was 30-40% faster on the G4 Power Mac and PowerBook. How depressing. How frustrating. You buy the "World Fastest Desktop Computer" only to find out it's the "World's Slowest FireWire 800 Platform." (This is not the fault of the LaCie product but a mysterious glitch in the G5's FW800 subsystem.)
SOURCES FOR TEST PRODUCTS
The two 500GB LaCie Big Disk Extremes were provided courtesy of LaCie. Ours came with dual Maxtor Maxline Pro II 250GB drives. Some 500GB Big Disk Extremes come with Western Digital WD2500JB 250GB drives. You can purchase the Big Disk (and Bigger Disk) directly from LaCie or from their authorized dealers such as Small Dog Electronics and Other World Computing.
The test "mule" was a G4/1.42MP Power Mac which has built-in FireWire 800. To create a second FireWire 800 channel, we used a FireWire 800 PCI card provided courtesy of LaCie. It's also available from LaCie direct or through dealers.
The Oxford 922 FireWire 800 Enclosures were provided by WiebeTech and Other World Computing. (By the way, Other World Computing also offers a FireWire 800 enclosure that uses the Initio bridge chip. Watch for a report in the near future on this enclosure versus the Oxford based enclosure.)
The Hitachi Deskstar 7K250 PATA drives were provided courtesy of Other World Computing and WiebeTech. They are available for purchase "bare" or in an enclosure from Other World Computing and TransIntl.com. You also can get the 7K250 bundled with Wiebetech's FireWire 800 products.
We used Intech's SpeedTools Test Suite -- specifically QuickBench X -- for capturing sustained read/write speeds. We specified Extended Test and check the "20-100MB" box.
Has Bare Feats helped you? How about helping Bare Feats?