Originally posted 02/03/04 by rob-ART morgan, mad scientist
Updated 02/20/04 with RAID 0 pair using AlumBook built-in FW800
QUESTION ONE: I need another channel of FireWire 800 in my Aluminum G4 PowerBook. Will adding a LaCie FireWire 800 CardBus PC Card give me performance equal to built-in FireWire 800?
QUESTION TWO: I have an older Titanium G4 PowerBook with built-in FireWire 400. Will a FireWire 800 CardBus PC card give me performance that matches a PowerBook with built-in FireWire 800?
QUESTION THREE: If I take two notebook drives, put them in FireWire 800 cases, and stripe them into a RAID 0 set, will I get decent sustained read/write speeds with the CardBus FireWire 800 card, or will I have to use the Built-in FireWire 800 port as a second channel?
In this test, we used two Hitachi 7K60 7200rpm 60GB 2.5 inch drives (the fastest notebook drive we've ever tested) and two Wiebetech MicroGB800 enclosures.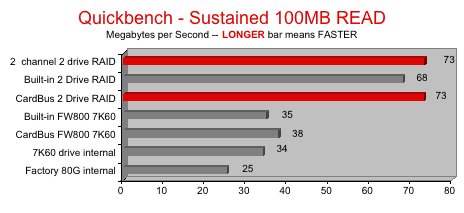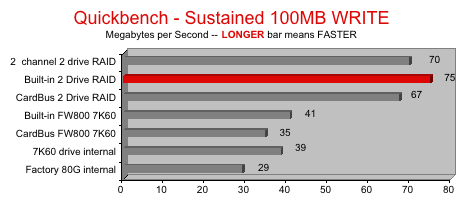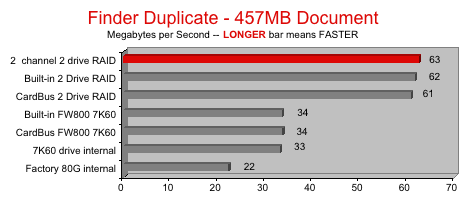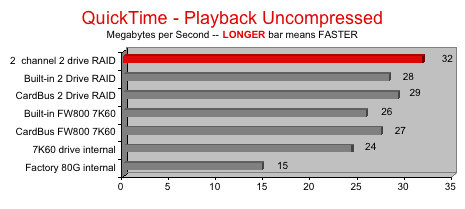 1. In single drive tests, the LaCie CardBus (CardBus) FireWire 800 card produced HIGHER sustained READ speeds than built-in FireWire 800. However, the sustained WRITE speeds were LOWER. In "real world" tests (Finder Duplicate, QuickTime Playback) the speeds were identical for CardBus and built-in FW800.
We tried the LaCie CardBus FW800 card on a Titanium G4/800 PowerBook. It recorded speeds equal to or faster than the same card in the Aluminum G4/1.33 PowerBook. That's good news for Titanium PowerBook owners who want to add FireWire 800 capability.
2. In dual drive RAID 0 testing, putting both drives on the LaCie CardBus FireWire 800 card produced speeds so close to "dual channel" FireWire RAID, that there will be no need for users to split the array between the CardBus card and built-in FW800 controllers.
We tried dual Hitachi 180gxp 3.5 inch 7200rpm drives in FW800 cases to see how they compared in speed to dual Hitachi 7K60 2.5 inch 7200rpm notebook drives in portable FW800 cases. The 3.5 inch drives were faster in sustained READ and slightly faster in "real world" tests, but not any faster in sustained WRITE speed. In other words, if you are going for capture speed, you might as well use the smaller bus powered drives -- unless you need the extra storage capacity of the 3.5 inch drives provide.
3. The PowerBook G4 does sustained WRITES to the dual drive RAID set faster than the G5 Power Mac! I've included a graph below to highlight the issue. Something is radically wrong with the built-in FireWire 800 controller on the G5 when the Dual 2GHz model gets beat by PowerBook with a single G4/1.33.

Which begs the question: if video/audio capture speed is the prime concern, why would I need a Power Mac? ANSWER: Because the G5 will render effects much faster. It's still a "scandal," however, when a PowerBook G4 beats up on a Dual G5 in the dual FW800 raid writing "contest."
WHERE TO BUY
The LaCie FireWire 800 CardBus PC Card is available direct from LaCie or from Other World Computing. It features dual FW800 ports and a single FW400 port. LaCie includes a small power supply to provide juice to bus powered devices, since CardBus doesn't provide bus power.
The Hitachi 7K60 7200rpm 2.5 inch notebook drives with 8MB buffer were provided by Trans International. Be sure to check their site for pricing. Check also with Other World Computing.
The portable FW800 enclosures used were provided by Wiebetech (MicroGB800). Before you buy a FW800 notebook enclosure, check also at Other World Computing and Trans International.
Has Bare Feats helped you?
How about helping Bare Feats?