by rob-ART, mad scientist
Posted 8/9/02
Big Mahalo to Granite Digital for providing the Hot Swap FW test units
and to FWDepot for the PCI FW/USB card.
The RAID function in OS X's Disk Utility will work with FireWire drives, not just Ultra ATA and SCSI. I decided to create a striped array (RAID 0) using the two new Granite Digital Hot Swap FireWire case kits and a pair of IBM Deskstar 120GXP's.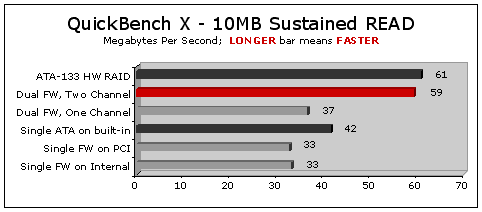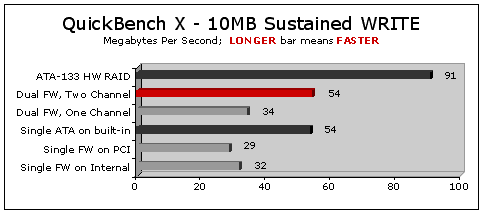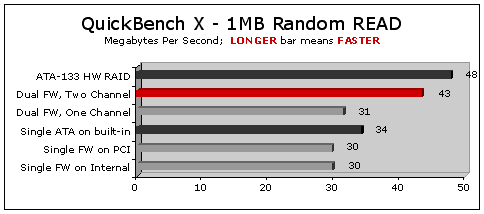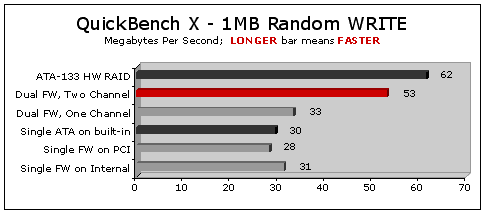 CONCLUSION
FireWire still isn't as fast as Ultra ATA in either single drive configuration or striped pairs.
However, if you are going to do FireWire RAID, you need more than Apple's built-in dual FireWire ports. You need to create a second controller or channel by adding a PCI FireWire card. As you can see from the graphs above, by putting one drive on the internal FW port and the other on the PCI FW port, the speed increased considerably.
WARNING: Not all FireWire PCI cards are created equal. Speeds vary from 16MB/sec to 32MB/sec, depending on firmware and chip set. (See notes below on what card I used.)
TEST HARDWARE & SOFTWARE
Tests were conducted using Intech's QuickBench X. Test "mule" was a G4/1000MP Power Mac running OS X (10.2).
The RAID software used is "built" into the Disk Utility that comes with Apple's OS X.
The drives used were IBM Deskstar 120GXP's (120GB, 7200rpm) which are available from various sources including GoogleGear (search on "120gxp"), Trans International, and Other World Computing.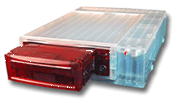 For FireWire Case Kit, I chose the NEW Granite Digital FireVUE Hot Swap because it is fast, rugged, and cool running. And the drive trays make backing up and managing disk hungry projects economical and easy.
I chose the FWDepot FireWire/USB card because it's the fastest I've ever tested. I would have used their dual channel FW PCI card but the sustained WRITE speed was an unimpressive 16MB/sec. (More on that after more testing.)