Posted May 10th, 2002
by rob ART morgan, Bare Feats Mad Scientist
I'm always testing various different drives with FireWire. I'm constantly switching drives around from IDE to FireWire and back. I don't even fully assemble the FireWire cases I use. I leave the top open. I don't even mount the drive. I sit it on a dense piece of cardboard. So you can image my interest in the Wiebetech FireWire Drive Dock.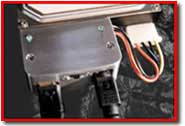 It's the FireWire case kit without the case. Cool. So cool, you don't need a fan. You can pull power off your Power Mac or use the optional external power supply.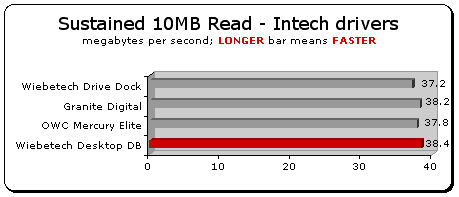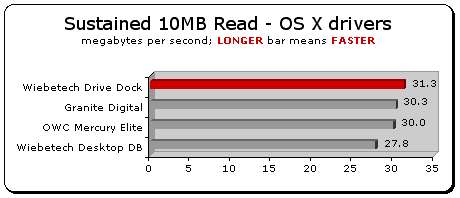 PERFORMANCE ANALYSIS
As you can see by the test results above, the FireWire Drive Dock, which uses the "Oxford 911" chip set, is every bit as fast as the regular FireWire case kits from Granite Digital, OWC, and others. It's fastest when running with Intech drivers under OS 9. Now if we can just get someone to make faster drivers for OS X....
Since this article was first published, Wiebetech has announced a drive dock for small 2.5 inch drives.
SUGGESTED USES FOR THE Drive Dock
As I indicated above, it's the perfect Bare Feats Speed Lab bench test tool for comparing various bare IDE drives to see which runs the best under FireWire. It's also helpful for comparing various FireWire drivers.
If you are a system administrator, you will find it handy for transferring files from one bare IDE drive to another since any drive formatted as an IDE drive will mount when plugged into a FireWire bridge. Or carry a "Drive Docked" drive around with your system updates, installers, and diagnostics.
If you have a Power Mac with either an internal FireWire port or a FireWire PCI card with internal FireWire port, you could actually mount a bare drive inside the case, plug the Drive Dock in (assuming there is proper clearance), attach internal power cable, and voila!
TEST HARDWARE
Apple Power Mac G4/800MP running both OS 9.2.2 and OS 10.1.4.
FireWire drive/enclosure tested: Wiebetech FireWire Drive Dock
TEST SOFTWARE & DOCUMENTS
Apple Disk Utility, Intech's HD Speed Tools (including QuickBench and QuickBenchX), QuickTime Player.
WHERE TO ORDER YOUR APPLE PRODUCTS
When ordering products from Apple Store USA, please click THIS TEXT LINK or any Apple display ad as your "portal" to the online store. In so doing, you help to support Bare Feats. (DON'T LIVE in the USA? See links for Apple online stores in other countries.)

© 1995-2007 Rob Art Morgan
"BARE facts on Macintosh speed FEATS"
Email , the webmaster