FWB's FireWire RAID + Granite Digital's "911" FireWire Bridge = Nose Bleed Speed!
March 30th, 2001
Updated July 5th, 2001 with comments on 4 channel, 4 drive RAID
by rob ART morgan, mad Mac scientist
As recently as December 2000, I was excited about the advent of FireWire RAID by VST Technologies. A month later, Granite Digital started shipping a FireWire enclosure that posted write speeds almost 3 times faster than VST's fastest drive, thanks to the new Oxford 911 chip set on their bridge board. Now, FWB is on the verge of shipping a version of Hard Disk Toolkit that supports FireWire RAID on ANY FireWire drive. I couldn't wait to try it on the fast Granite Digital enclosures connected to a Dual G4/533.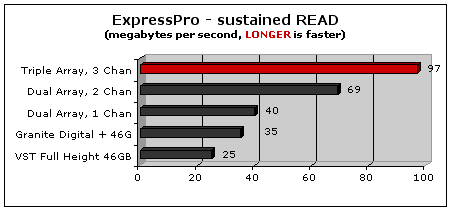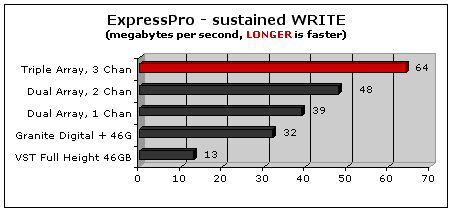 Extraordinary speed. Thanks to the new faster bridge boards, FireWire is now every bit as fast as Ultra ATA. Yet FireWire drives have the advantage of being EXTERNAL so there's no practical limit to the number of drives. And they are HOT-PLUG-ABLE!

Call them "channels" or "controllers" but if you want maximum speed with your FireWire RAID, you're going to want to use multiple ones to get the most speed. You see, Apple may provide two built-in FireWire ports on the current crop of Power Macs, but they share a single controller chip. By adding one or more FireWire PCI cards, I'm able to dedicate a controller chip to each Granite Digital enclosure/drive.

On July 3rd, I tried 4 IBM 60gxp drives on four FireWire controllers (one built-in, three PCI cards). The sustained READ/WRITE speed was no faster than with three drives/controllers. Using the faster 60 gxp's in a two drive array did increase the READ and WRITE speed to 74MB/sec and 57MB/sec respectively.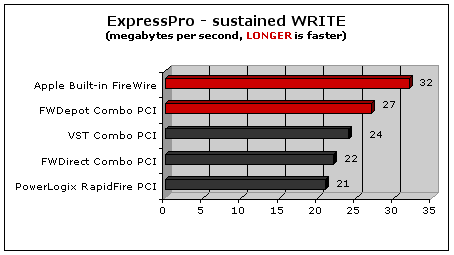 When FireWire drives only reached 13MB/sec sustained WRITE speed, this was not an issue. But now that FireWire drives are capable of 30+MB/sec write speeds, it has come to my attention that FireWire PCI cards are slower than built-in FireWire! Not only that, but some PCI cards write faster than others, especially when used in combination with the built-in FireWire port to create a "dual channel" array. But the ultimate multi-channel FireWire solution is coming real soon: a 3 channel FireWire PCI card from Granite Digital.


The purpose of the two graphs above are to show that FWB's Hard Disk Toolkit's FireWire RAID support makes even the VST striped array go faster than when using VST's FireRAID software.
PERFORMANCE ANALYSIS

Isn't technology fun? If you aren't satisfied with the features or performance of an given product, just wait a few months and things will improve.

The implications of these FireWire results: