BARE FEATS asks:
Is there fire in the belly of that Old 7500??
Here's A Three Way "Race" Between
A Power Mac 7500 with a CarrierZIF G3/400 upgrade
A Beige G3/266 with a G3/400 ZIF upgrade &
A Blue & White G3/350 with G3/400 ZIF upgrade
...All Three With Orion RAGE 128 & Game Wizard 3Dfx
(Created 7/2/99; updated 7/3/99 with Beige G3)

© 1999 Rob Art Morgan, editor of BARE FEATS
Gotta Question? Comment? Want to advertise?
Email Rob Art at rob-art@barefeats.com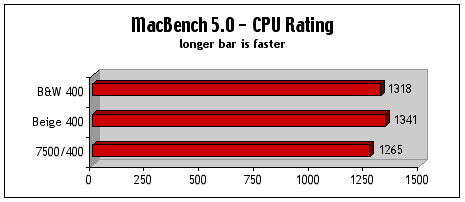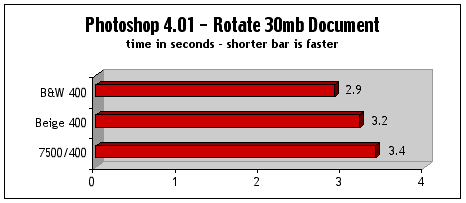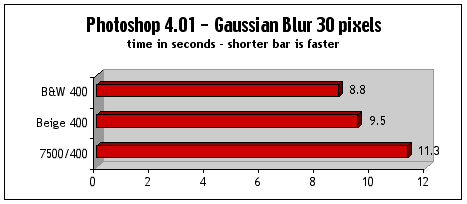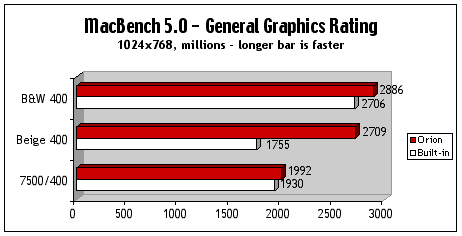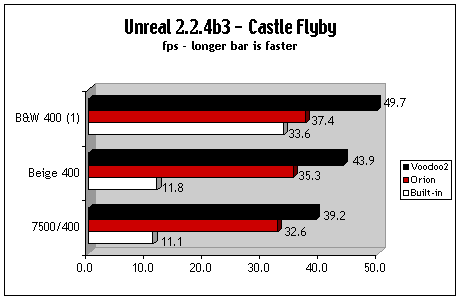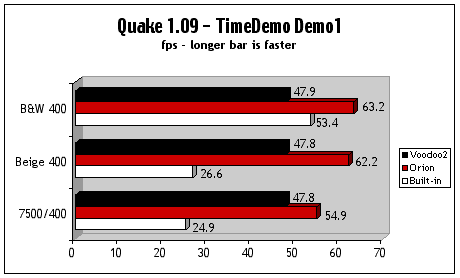 The old Power Mac 7500 does a respectable job of keeping up the fancy schmancy Blue & White G3 box and newer Beige G3 thanks to the XLR8 CarrierZIF G3/400 upgrade and ATI's Orion RAGE 128 board.

The Blue & White won all but one "race" by "inches" thanks to the faster bus (100MHz vs 66MHz vs 50MHz) and faster PCI slot (66MHz vs 33MHz).

If money is no object and you have to have the fastest Macintosh, then go right ahead and scrap your 7500 for a NEW $2040 Blue & White G3/400*. After all, it comes with FireWire and USB ports and optional DVD.

But if you are counting pennies or have a big investment in memory or video addons, I believe it's worth investing $595** in your old 7500 so you can run with the big dogs. Ditto for owners of 7300's, 7600's, 8500's, 8600's, 9500's & 9600's. And double ditto for Beige G3 owners.

Pretty amazing. The old Cobra still has venom in its bite.

* Cost of a G3/400 with 128MB of RAM and a regular CD/ROM when purchased from the Apple Online Store
** That surprisingly low price is what you would pay if you got
a) the ZIF 366MHz upgrade from OWC that's guaranteed to adjust to 400MHz ($345),
b) the ZIForce carrier card from MacGurus ($150),
c) and the Orion RAGE 128 form BuyCom ($100 after $50 factory rebate).
All three Macs were running System 8.6 with standard extensions, Virtual Memory OFF, AppleTalk OFF, Clock Display OFF. The 7500 had 160MB of RAM. The Beige G3 had 128MB of RAM. The Blue and White had 256MB of RAM.
The G3 upgrade used on the 7500 was the new XLR8 CarrierZIF, a daughterboard "shell" that accepts ZIF upgrades. It had an XLR8 400MHz ZIF running at 2:1 cache ratio. (Just for fun, I plugged in a PowerLogix G3/466 ZIF. It worked fine but wouldn't run over 400MHz.)
The Biege G3 was a G3/266 DT with a PowerLogix G3/466 ZIF upgrade set to 400MHz and 2:1 cache ratio. (The "built-in" graphics numbers were from using Apple's OEM version of the iX3D Ultimate Rez.)
The Blue & White G3 was a revision A G3/350 with a PowerLogix G3/466 ZIF upgrade running at 400MHz & 2:1 cache ratio.
The ATI Orion RAGE 128 graphics board was used on all three Macs to make the comparison as fair as possible.
For the 3D game tests, I added the MicroConversions Game Wizard 3Dfx Voodoo2 board to all three.
RETURN to the bare feats LIST of LATEST SPEED TESTS
©1999 Rob Art Morgan, publisher of BARE FEATS
Gotta Question? Comment? Want to advertise?
Email Rob Art at rob-art@barefeats.com