Back in 2003, we found the original Sharper Image leather massage chair with "multiple variable width rollers" on sale for $999 on their Outlet Store. This was a deal considering it originally sold for $4000. As good as it is, we think we are ready for an upgrade -- to speed up our productivity and boost our morale.
We've found exactly what we want. It's called the Ultimate Robotic Human Touch Massage Chair and Recliner (HT-1640)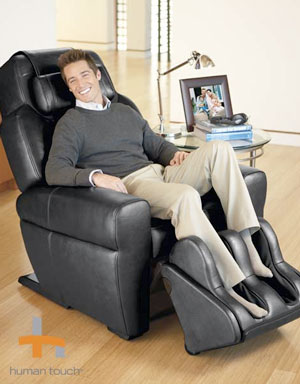 There are many features it adds to the experience that are missing from our current massage chair. For example, it not only massages your back. It massages your feet, your calves, your arms, and your buttocks. Yes, your buttocks. Why? I'm told by our favorite masseuse that lower back pain must be treated by massaging the muscles in the buttocks as well as the lower back.
This chair also features a heat option which comes in handy on cold winter mornings. Nothing makes the muscle spasms worse that sitting in a cold massage chair.
One of Bettay's favorite features is the disappearing foot and leg massage unit. You use the remote control unit to make it rotate back and disappear under the chair when you are finished with your leg massage. The result is a chair that looks like a "normal" leather stuffed chair rather than screaming, "I am a hideous looking massage chair." It not only looks good, but is very comfortable for normal sitting, thanks to ViscoElastic memory foam cushions. That can't be said of all massage chairs, many of which feel like chambers of torture when not in operation.
As stated earlier, it has all the standard massage chair features like rollers in the back that do rolling, compression, percussion, and kneading (Shiatsu) motions. One option is to combine the kneading and percussion -- one of my favorites. As with most chairs of this type, it has the ability to recline up to 170 degrees. There are six programmed massage modes that you can select as well as manual override. You can vary the intensity. It even has something called Acupoint Detection which is supposed to automatically detect acupressure points in your back -- kinda sorta (wink, wink, nudge, nudge).
A LUXURY BEYOND YOUR MEANS?
It is expensive at $4799. But often we consumers have no problem spending that much on high-end computers, Hi Definition entertainment systems, fancy furniture, state-of-the-art appliances, and home gym equipment. (I paid more than that for the original LaserWriter back in 1985.) A really good massage chair could be a very important addition to your home or office. I know it is in ours.
We don't have a living room in the traditional sense. If you want to come visit us, don't expect to sit on a sofa sipping an Espresso over a coffee table. We have neither.
We've converted our living room to a recreation room with an elliptical trainer, ab lounger, and total gym. Plus we have two flat panel TVs, each with its own wireless frequency (for wireless headsets) and Dish TV HD DVR receiver. This is one of the secrets of our happy marriage -- one TV for each of us.
Finally our special room has two chairs for relaxing after exercise: the Zero Gravity Perfect Chair and, as of recently, the Ultimate Robotic Human Touch Massage Chair.
As I mentioned, we like to go to the local hot springs spa. If we buy the new massage chair and skip going for a massage twice a month, we can recover the cost within a year. Maybe you like going to a fine restaurant once a week. What's your tab after appetizers, main course, driinks, dessert, tips, and parking? $50? $100? More? Skip that weekly event for a year or two and you've paid for the chair. Plus, think of the calories you would save!
Maybe you are the CEO of a new high-tech startup. Why not invest one or two of these chairs for the employee lounge? It might improve productivity. It will certainly improve morale.
I'm sure if you put your mind to it, you can come up with a justification and the means for buying the Ultimate Human Touch Massage Chair.
UPDATE: Since we wrote this article, we "pulled the trigger" and bought the chair. We were shopping around and found a dealer near us that not only offered us a deep discount but added a free 5 year extended warranty, free delivery, and free setup. We were impressed with their response to our questions via email and phone calls.
They also have refurbished models selling for $2999. Since our dealer also ships to any state in the continental U.S. and takes orders over the internet or by toll phone number, we want to give a special shoutout to BackStore.com (aka VitalityWeb.com) in Poway, California.
SUMMARY OF FEATURES
Ultimate Human Touch Massage Chair offers the most technologically advanced Robotic Massage available, plus genuine leather upholstery and memory foam cushions.

Eight pre-programmed sessions enhance your health and well-being: Full Body Sore Muscle Relief; Sports & Back Therapy; Leg-Foot-Hip Therapy; Neck-Shoulders Relief; After-Work Stretch; Morning Wake-Up and Nighttime Soothing.

Programs are accompanied by the Acupoint Detection System to ensure an accurate, personally targeted massage.

Footrest automatically rotates to reveal the foot and calf massager. Integrated wave vibration circulates blood to your heart, while acupoints under your soles will help soothe and rejuvenate tired feet and legs.

Select from two automatic programs or three speeds for a stimulating foot and calf massage.

Upholstered in top grain leather; space age viscoelastic foam in the one-inch seat cushion makes this as comfortable as any easy chair on the market!

Power recline slowly lowers the backrest to an almost horizontal position (170 degrees). Monitor the massage programs with the two-sided remote control that features a blue LED display and massage session countdown timer.
Extended in-home/in-office warranty for maintenance and repair available.