By Bet-TAY, Special Features Editor
Posted Wednesday, June 24th, 2009.

Bag designers at Think Tank Photo see photography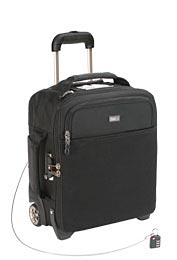 gear storage and transport as a series of problems that need resolutions. It's the design resolutions of "compact" photography roller bags that caught my eye. The Airport AirStream Bags are perfectly designed for traveling with my favorite photography gear and MacBook Pro while meeting the INTERNATIONAL carry-on limitations. The design features are extraordinary and will not only get my equipment to my destination safely, but provides security along the way. Traveling aside, I LOVE the Airport Airstream for everyday use, saving me from carrying all the weight on my shoulders. Besides my Nikon D200 (and associated parts), it provides plenty of space and safety features for my MacBook Pro and Wacom Tablet. This bag does not scream, "Photography EQUIPMENT!" It's classic, modern, and ergonomic.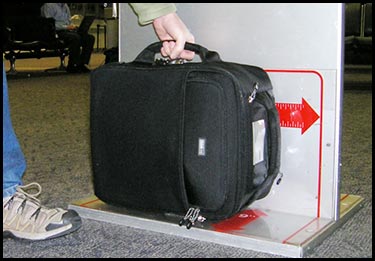 The Think Tank Photo Airport AirStream measures well below strict airline requirements.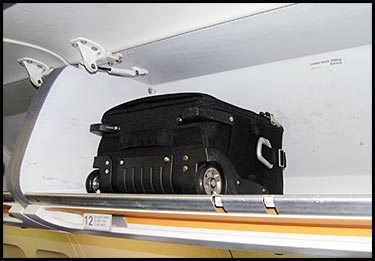 The Airport AirStream fits in overheads with handles on each side for easy stow and removal.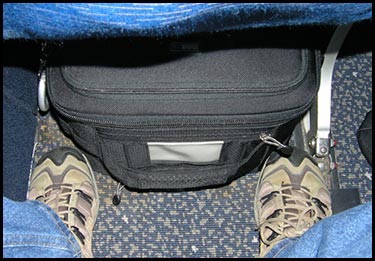 On small shuttle flights, the Airport AirStream fits easily under the seat.
Meets INTERNATIONAL carry-on size requirements
The Airport AirStream is the perfect size for traveling Internationally or Domestically with a select amount of gear.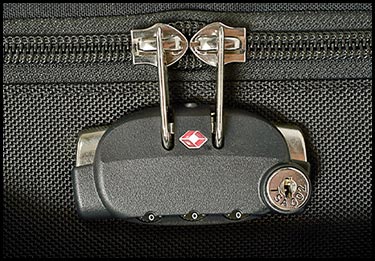 TSA combination zipper locks
TSA combination lock to lock zipper
There are many instances when photographers must leave behind some or all of their gear. It is absolutely vital that this gear be secured from theft. This is why the Airport Security's zippers have special built-in combination locks. Combination locks are located at both openings to the inside of the bag.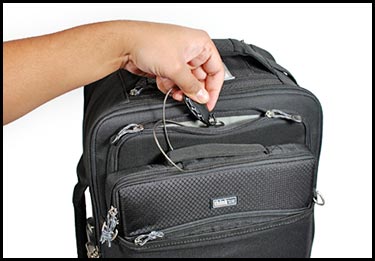 Front cable & lock secures laptops
Front Security Cable & Lock
Front security cable & combination lock allows me to lock my MacBook Pro to the front of my roller.
This lock is very effective when I am traveling with my MacBook Pro case stored in the front stretch pocket.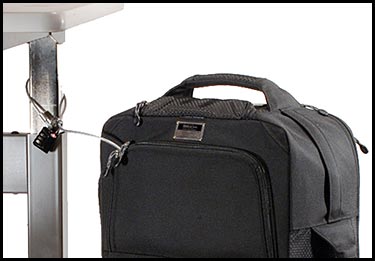 Back cable & lock secures the Airport AirStream to any fixed object
Back Security Cable & Lock
A Security cable & combination lock allows me to lock it to immovable objects. This security cable is very effective when I have to leave my gear for a period of time in a media room, wedding hall, hotel room, or other open area.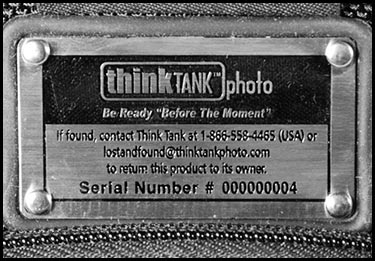 Security Plate with unique serial number
Security Plate
The Security Plate may allow my lost or stolen bag to be returned! Before using my bag, I registered my unique serial number in the "lost and found" section of Think Tank Photo's website.

Holds Up to a 400mm Lenses
The Airport AirStream will hold a variety of equipment including up to a 400mm lens!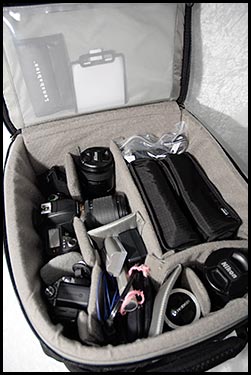 My Airport AirStream packed for a Mini Cooper road trip.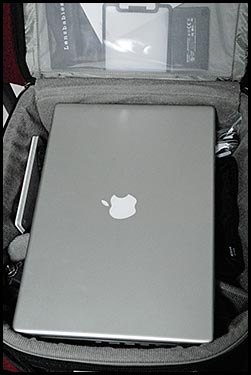 My 15" MacBook Pro sits easily over my camera gear inside the case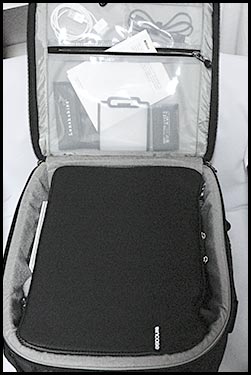 Even with a computer sleeve, the 15" MacBook Pro fits easily inside the Airport AirStream fitted with the "Low Divider Set."
Optional "Low Divider Set"
The optional low divider set lowers the interior compartment by 2", allowing for 15" computers, the Cable Management 50, or some other photography items to lay flat on top of your other equipment. My Wacom Drawing Tablet fits perfectly when not storing my MacBook Pro inside the roller. This works for local road trips, but when flying, you'll want to use the standard divider set to make sure that nothing rolls around in the event that you have to check the roller at the gate. If you have to take your laptop out, all that space is open for the contents to move around. This is helpful for those of us who often get stuck on SMALL planes that won't let us carry our roller into the cabin area.

Replaceable wheels and protective wheel housings
If I wear out the wheels, ThinkTankPhoto provides a FREE kit so that I can replace the wheels. The wheels being located on the very outside of the bag makes it very stable when rolled. The wheel housings are extra high, to protect the case when going up curbs and stairs.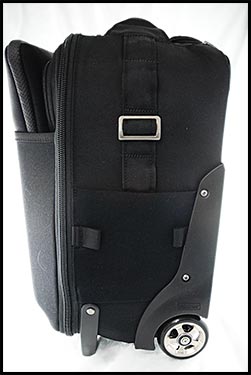 My stuffed bag with my 15" MacBook Pro and sleeve tucked into the outside pocket of the Airport AirStream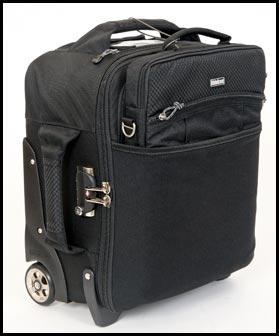 Optional AI 15" Laptop Case
Optional Artificial Intelligence 15" or 17" laptop cases slide in front pocket
The advantage is that the Airport AirStream roller bag looks smaller, even when the laptop case is inside the pocket. If for some reason I do need to weigh the bag, I can remove the laptop case, making the roller bag lighter and smaller in appearance. Also, when I get to my seat on the plane, I can removed the MacBook Pro before shoving the roller bag in the overhead bin.
Front stretch pocket
If I am not using the front stretch pocket to hold a laptop case, it is an excellent pocket to get quick access to newspapers, paperwork, and other items I need to pull out quickly.
Front Pocket Organizer
The zippered front pocket can be used for storing items like pens, pencils, card wallets, CDs, notepads, and more.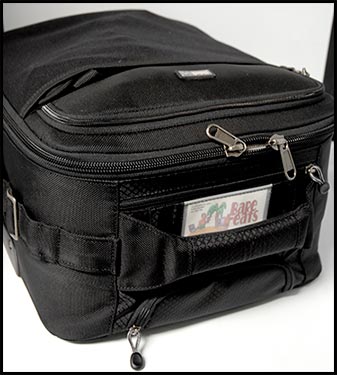 Business card holder
Business card holder/top pocket
For easy identification, a business card holder is located directly under the top handle. It holds quite a few cards, so I can hand them out without having to unzip anything.
There is also a zippered pocket under the handle that can hold my passport and other small items.
Product Includes a seam-sealed rain-cover
SPECIFICATIONS
Internal Dimensions:
13.5" W x 6.5-7.5" D x 15.5" H
34 x 16.5 x 39.5 cm
External Dimensions:
14" W x 8" D x 17.5" H
36 x 20.5 x 44.5 cm
Weight:
9 - 10.5 lbs. (weight varies depending on accessories)
Recommendation
I whole heartedly recommend the Think Tank Airport AirStream Roller Bag. It has replaced my Tumi Roll-A-Way because of all the features listed above.
ORDER DIRECT FROM ThinkTankPhoto.com.
WARNING: The Airport AirStream Roller Bag is not designed to be checked luggage when traveling by airline. It is designed to stay with you at all times. If for some reason you are forced to check it, remove your laptop and your SLR camera bodies and hand carry them onto the plane. Checking your gear with the laptop enclosed may permanently damage your equipment.
Related Links
Airport AirStream "Low Divider Set Instructions"

Two Part Feature Articles: "Fear for Your Gear While Running Through the Airport"

The Airport AirStream Demonstration Video

Optional Items for the Airport AirStream Roller Bag
Airport AirStream Low Divider Set
Optional set of dividers allows for up to 15" computers to lay inside of the roller.
Features:
After installed, dividers are 2" lower.
Allows 15" or smaller laptops to fit inside.
Allows the Cable Management 50 to fit inside.
$39.00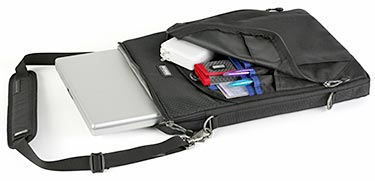 Artificial Intelligence 15 & 17 Version 2.0
These completely revised thin laptop bags accommodate up to 15" or 17" laptops with a front pocket for cables and accessories.
Features:
Thin padded case that will hold up to a 15" or 17" laptop.
Front pocket opens wide for computer accessories.
Organizer located inside front pocket.
Removable shoulder strap included.
Rear pocket with hook & loop closure.
Can be carried horizontally or vertically from either side.
Can be carried as a backpack with Shoulder Harness. (Sold Separately).
AI 15 V 2.0 - $49.00
AI 17 V 2.0 - $59.00