Posted Friday, October 9th, 2009, by rob-ART morgan, mad scientist
PERFECT COMPANION FOR APPLE LAPTOP
The 24" Apple LED Cinema Display has been around since October 2008. We decided to get one for a "home base" display for our 17" MacBook Pro Unibody. It's a great way to extend your desktop when working on projects while not on the road. Since I maintain the Bare Feats website on the MBP, it's nice being able to spread out my work on more than one screen. As you may know, the display comes with three connectors (Mini DisplayPort, USB 2.0, and MagSafe power adapter for charging Apple laptops with MacSafe recepticles).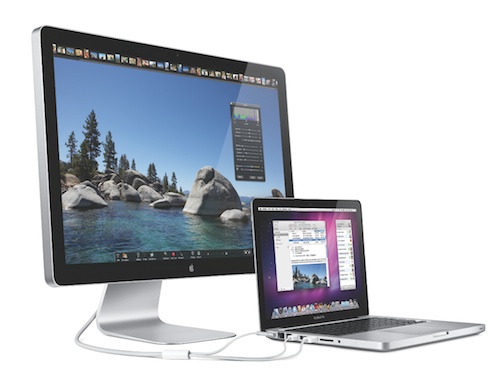 (Image is courtesy of Apple Inc.)

NOT-SO-PERFECT COMPANION FOR MAC PRO
The 24" Cinema LED Display is now the obvious choice for most buyers of new Mac Pros. However, two of the fastest GPUs for the Mac Pro (GeForce GTX 285 and Quadro FX 4800) do not have a Mini DisplayPort. And since Apple does not offer a converter box, you can't use the 24" LED Cinema Display with those GPUs unless you seek out a third party DVI to Mini DisplayPort converter box.
PERFECT SOLUTION
We had an opportunity this week to test the Atlona Model: AT-DP200 converter box. We used it to connect the 24" LED Cinema Display to our Mac Pro Nehalem. It works like a charm. We were able to use the display with one of the standard DVI ports on the GeForce GTX 285 whether we booted OS X Snow Leopard or Vista Ultimate.
We connected our 30" Cinema Display to the second DVI port. In the middle of the day with the sun shining through our lab's two skylights, the 24" Cinema display exhibited much better contrast and brightness than the 30" Cinema display. I think an update of the 30" Cinema is long overdue. My feedback from various power users is that they are searching for third party 30" alternatives such as the Samsung XL30 LED-backlit monitor or the Dell UltraSharp 3008WFP 30-inch Widescreen Flat Panel Monitor with 3000:1 contrast or the LaCie 30" LCD Monitor (model 730) with RGB-LED backlit technology, 125% NTSC color gamut, 14-bit gamma correction, and glare hood. But I digress.
The AT-DP200 converter box is compact (4.7 x 3.7 x 1.3 inches). It requires a small 5V power supply and DVI to DVI cable, both of which are included in the package.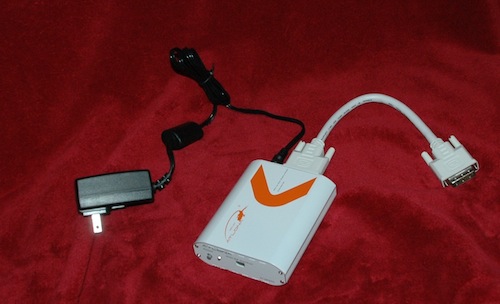 At $170, the Atlona AT-DP200 is a pricey option but considering your investment in the Mac Pro, optional graphics card, and 24" LED display, it's worth it.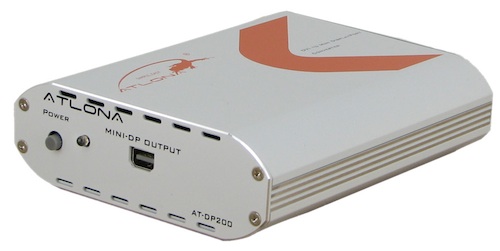 One other company makes a similar converter box. Read about the Gefen DVI to Mini-DisplayPort Converter in our original "Problem Solved" article.
WHERE TO BUY DVI-to-Mini DisplayPort converters
Order direct from Atlona or order direct from Gefen.
WHERE TO BUY MAC PRO GRAPHICS CARD UPGRADES
Other World Computing has the GeForce GTX 285 Mac Edition as does Club Mac.
ClubMac has the ATI Radeon HD 4870 Graphics Upgrade Kit along with Apple Online Store USA.
WHERE TO BUY THE 24" LED DISPLAY and other APPLE PRODUCTS
When you purchase products at Apple USA, please CLICK THIS LINK. It's a great way to support Bare Feats since we earn a commission on each click-through that results in a sale.