Apple, Inc. (formerly known as Apple Computer, Inc.) has a booth at the Consumer Electronics Show, but with 2700 exhibitors in Las Vegas, it's easy to get lost in the shuffle. Introducing Apple "consumer electronics" products at the MacWorld Expo San Francisco 2007 Keynote was a stroke of genius. It garnered special media attention to Apple's new products resulting in prime coverage by CNNMoney, Wall Street Journal, Fox News, and others.

iPHONE
HOW SPECS COMPARE TO EXISTING SMART PHONES
Comparisons to other smart phones are inevitable. I looked up the specs to the latest models of other smart phones (Blackberry, Palm Treo, and Motorola Q). The Q is the same thickness as the iPhone. The rest are twice as thick. In terms of length, width, and weight, they are all about the same.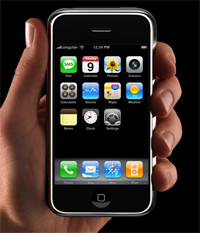 In terms of battery life, the talk time varied from 4 to 6 hours, with the iPhone in the middle at 5 hours talk/video/browse.
The Motorola Q was the most impressive of the three alternatives to the iPhone since it supports 3G (EV-DO) mobile broadband, has a mini-B USB connector (allowing it to be used as a broadband modem), does streaming video/music (Windows Media Player), and includes a miniSD memory expansion slot.
One big advantage the smart phones have over the "genius" iPhone is a removable battery. If your battery goes kapoot, you have to ship the iPhone to Apple. What do you use for a cell phone in the meantime? Is Cingular or Apple going to give you a loaner?
But none of the existing smart phones hold a candle to the "power and sex" of the iPhone's touch-screen interface, automatic portrait/landscape orientation, advanced feature set, desktop-class apps, multi-tasking OS, and easy sync-ability with a Mac or PC.
WHY NO 3G?
Apple lists the mobile wireless data techology as EDGE (2.5G). According to Cingular, that averages 70-135Kbps download speed. You won't be able to have the 400-700Kbps download speed of Cingular's "true" broadband mobile UMTS/HSDPA (3G) data network.
Apple's iPhone "internet" web page mentions "downloading your email in the background over Wi-Fi or EDGE." The "wireless" web page states that built-in Wi-Fi "gives you up to broadband-speed browsing and connectivity," though the word "internet" is only used when mentioning EDGE. On February 28th, 2007, Apple's COO, Tim Cook, clarified that if you are near a Wi-Fi Hotspot, you can indeed use the built-in Wi-Fi 802.11b/g to surf the internet.
"If I have Wi-Fi, why should I care if my iPhone isn't 3G?" Because if you are NOT near a Wi-Fi Hotspot and have to use Cingular's EDGE mobile data network, web pages (Google Maps, Wallstreet Journal) and email attachments will be slow to download. Tim Cook defended the decision to initially go with EDGE because "it's widely deployed." Cingular supports EDGE in 13,000 cities while their latest earnings report states they have UMTS/HSDPA (3G) in "165 (US) cities, including 73 of the top 100 markets."
But EDGE and UMTS/HSDPA are not mutually exclusive. If you aren't in a service area that supports UMTS/HSDPA, your cell phone should switch to EDGE. Thankfully, there's been a report that Apple has promised a large European corporation that the "version 2.0" iPhone will feature 3G -- as early as January 2008. So you have to ask yourself, "Do I want to be locked into a 2 year contract with a non-3G iPhone or wait until 2008 for a 3G iPhone?"
FYI, the current "smart phones" offered by Verizon like the Blackberry, Treo, and Motorola Q support 3G (EV-DO). And Verizon Wireless has EV-DO mobile broadband access in "242 major metropolitan areas." Oh, and by the way, did you know you can use your iPhone to access both Sprint's and Verizon's 3G network? All you need is to know someone with a 3G card in their MacBook Pro or PowerBook. They can use the Internet Sharing mode to give you access. Or if you know someone with a mobile broadband router containing a 3G card, you can access that via Wi-Fi. Read more about these alternatives HERE.
DEFINITION OF MOBILE BROADBAND DATA NETWORK TERMS
Cingular's 3G (or 3rd generation) wireless broadband data network uses HSDPA/UMTS (High Speed Downlink Packet Access/Universal Moblie Telephone System) technology. It's sometimes marketed as "3GSM." For more info, see Wikipedia's discussion of HSDPA and UMTS.
Verizon and Sprint's 3G wireless broadband data network uses EV-DO (Evolution-Data Optimized) technology. For more info, read Wikipedia's discussion of EV-DO.
PRICE SENSITIVITY
The competing smart phones varied from $99 to $399, depending the model, the rebate, and the contract length. In fairness to Apple, the $499 starting price includes many more features, much more memory, better screen, superior interface, and a 4GB Video iPod. Like I said, none of them hold a candle to the "power and sex" of the iPhone.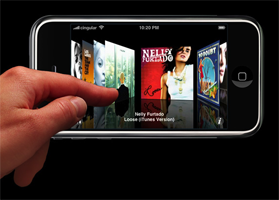 One financial analyst on Fox News believes most techno savvy consumers already have a cell phone under contract and already have a 30GB or 80GB Video iPod. Would they really be tempted by the advanced features and interface to toss aside their existing phone and iPod for a $499 or $599 combo device with a snazzy interface -- especially if they had to change cellular services -- and are still under contract to their existing service?
Small business owners and professional employees are likely to have separate cell phone contracts (one for personal, one for business). In my case, my business phone happens to be Cingular and my current contract runs out in March. I was going to cancel my contract and switch the business phone to Verizon. Now I'm tempted to stick with Cingular just so I can qualify for the iPhone in June -- if only to have the latest techno toy -- ahem -- as a sacrificial gesture so I can evaluate it and report on it to Bare Feats readers. ;-)
If you are on the fence, you have a few months to decide. Meanwhile, I recommend you check out the online demonstration pages of the phone, iPod, and internet features of the iPhone. Also, read about the advanced technology so you can see it's more than JASP (Just Another Smart Phone).
MORE COMMENTS AND QUESTIONS
You should check out David Pogue's posting entitled "The Ultimate iPhone Frequently Asked Questions" on the New York Times website.
APPLE TV
WHY DO I WANT AN APPLE TV?
The Apple TV syncs with any Mac on your local wireless (or non-wireless) network containing your collection of music, movies, TV shows, Podcasts, and photos. It uses a small wireless remote to select and play them on the remote display connected to the Apple TV box. The unit contains a 40GB hard drive which will store up to 50 hours of 640x480 H.264 movies. (The largest format supported is 1280x720, 24fps, Progressive Main Profile, MPEG-4 -- better known as 720p.)
It's like having a gigantic Video iPod in the living room, den, conference room, or bedroom.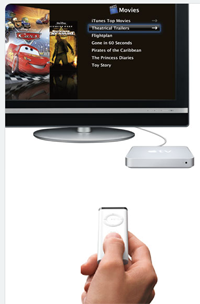 COMPETITION?
The Apple TV does not upstage products like EyeTV (El Gato) or TVMini HD (Miglia). Those devices are primarily designed to bring live TV into your Mac. The Apple TV is designed to transfer existing media from your Mac via Airport/WiFi (802.11n) to be played on a preferred remote viewing screen.
I have a friend that is using his Mac mini as his "Apple TV" device. He connected the Mac mini's DVI port to large 1080i screen. He uses a wireless keyboard and mouse to access the mini from his comfortable couch. He can launch DVD player or QuickTime player or iTunes or iPhoto or Keynote for playing back movies, TV shows, music, photos or slide shows. The Mac mini is pricier than the Apple TV at $599 but its 60GB hard drive holds more and functions as a general purpose computer.
HOW FAST CAN I MOVE STUFF TO THE APPLE TV?
Though you can use Ethernet cables, Apple intends for you to link your Mac and the Apple TV via your local AirPort (WiFi) network. This will be enhanced by the fact that Apple TV supports the new IEE 802.11n wireless (WiFi/AirPort) protocol. This new new 802.11n standard is rated at 200Mbit/s typical (and 540Mbit/s maximum theoretical). Apple says in actual testing, that 802.11n transferred data five times faster than 802.11g. (We have confirmed at least four times faster in our testing.)
But to take advantage of this speed and range increase, you also need the new Airport Extreme 802.11n base station. You will also need a Mac that has 802.11n support. Apple quietly built 802.11n wireless support into some Core 2 Duo Macs and all Mac Pros with the AirPort Extreme option. With the release of the new base station, they have made it official. When you purchase the new base station, it comes with 802.11n Enabler software for your Intel Mac.
The support for 802.11n is significant when you consider that you are using the wireless network to not only transfer movies to the Apple TV but if you have a network with more than one Mac, you may want to stream movies from the "non-primary" Macs.
Older Macs will not be able to take advantage of the new 802.11n speeds unless Apple or a third party releases an 802.11n upgrade card. Otherwise they will be limited to 802.11g speeds (25Mbit/s typical, 54Mbit/s max). One way to speed up the transfer from non-802.11n Macs is to connect the Ethernet port via cable to one of the 100BaseT (aka 100Mbit/s) Ethernet ports on the new Extreme base station. Too bad the new base station doesn't support Gigabit Ethernet (1000Mbit/s). That would allow any Gigabit enabled Mac to use the full bandwidth of 802.11n. (Ahem! We've suggested two third party product opportunities in this paragraph!)
Hopefully the movies, TV shows, and music you sync with the Apple TV have been properly compressed so they don't require a lot of wireless bandwidth. (See the Apple TV Specifications Page for more on this.) Michael Bean of AMUG pointed out that the Apple TV only supports H.264 format. So if you have MPEG-2 or MPEG-4 video clips you have captured using EyeTV or any other method, they will need to be converted to H.264 before you can sync them with your Apple TV.