Will games like Unreal leap forward with an AGP RAGE 128?
Posted 9/26/99.
© 1999 Rob Art Morgan, editor of BARE FEATS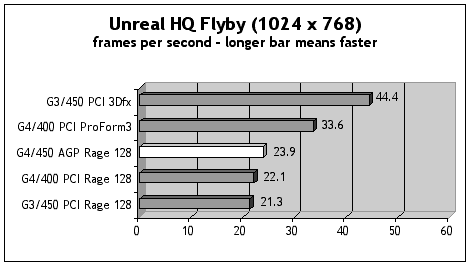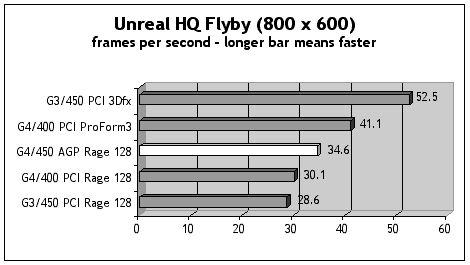 Conclusion: No, Unreal is only slightly faster.

REASON? It could be due to the fact that RAGE 128 is tapped out no matter how fast the slot. That would be implied by the fact that the Voodoo3 and ProFormance3 cards beat up on it even in a slower machine.

Stay tuned. More results are coming in a few days.
For Unreal 3D results, I use the Castle Flyby that comes up at startup. To get the average and minimum frames per second with version 2.x.x of Unreal, you press "~" and enter "TIMEDEMO 1." Then press "~" to open up the full screen again. It begins the fly sequence at the castle entrance. To insure the Fullscreen Viewport is actually running at 800 x 600 or to 1024 x 768 I edit those numbers into the "unreal.ini" document. (Get the latest latest UNREAL Beta from Westlake's Site.)
Go see more Speed Test Results

RETURN to bare feats main page

© 1999 Rob Art Morgan, editor of BARE FEATS
Gotta Question? Comment? Want to advertise?