Six Ways To Speed Up
Netscape Communicator 4.05
(initial testing 8/13/98; updated 9/1/98 with Communicator 4.5 beta results and reader feedback)
© 1999 Rob Art Morgan, editor of BARE FEATS
Gotta Question? Comment? Want to advertise?
Email Rob Art at barefoot@hawaii.rr.com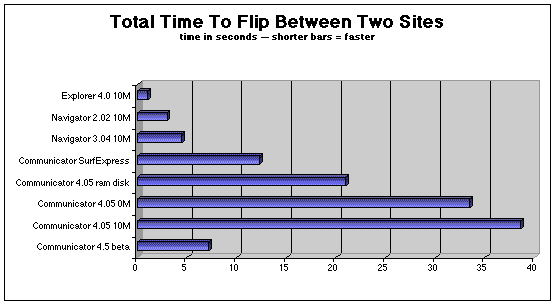 Conclusion: The quickest way to revisit web pages is to switch to Microsoft Explorer!!
Test Procedures
I loaded two graphics intensive web pages (www.sitelink.net and www.metacreations.com). Then I tried flipping back and forth between each. The chart above shows the total time to reload both pages from cache. Pretty bad at normal settings.
First speed trick was to set Cache size to zero. Amazingly, Communicator speeded up.
Second trick: I tried a 10MB RAM disk. That helped a little more.
Third trick: I installed the demo version of Surf Express. That helped signficantly. (It appears that Connectix's secret is that they use the local ISP's proxy server which is designed to cache pages much more efficiently that your own Mac or PC.)
Fourth trick: I tried other Netscape Browsers (Navigator 4.04, 3.04, 2.02). I settled on 3.04 since it was faster than 4.04 and more Java compatible than 2.02. It proved to be a lot faster than Communicator.
But what really blew me away was my fifth "trick", when I tried using MS Explorer (4.01) to browse instead of Communicator. By using the default 10MB disk based caching scheme, it only took a half a second to flip between the two complex web sites. I'm impressed! (Don't tell Bill I said that.) Somebody in Redmond knows what they're doing. If this is the result of monopolistic practices, bring it on! And Netscape guys, if you can't fix Communicator to cache like Explorer, you're dead meat.
NEW TRICK: tried the BETA of Communicator 4.5. Much improved over previous version but still slower than Explorer.
Reader Comments
"You are not measuring caching ability as much as screen redrawing ability. Explorer is faster in that regard." Screen redraw speed may be a factor, but how do you account for the dramatic difference in speed between the different caching setups of Communicator?
"Communicator is less efficient in searching cache." That's a nonstarter since I flushed the cache and the only two pages cached were the two I was flipping between!

Test Equipment
Test bed was an Apple Power Macintosh 7500
with a PowerLogix PowerForce G3 275/275 daughterboard
with speed dials set to 301MHz clock speed, 1MB backside cache set to 1:1 (301MHz)
system bus running at 43MHz, 176MB of interleaved 60ns memory
System was MacOS 8.1
Normal extensions turned on.
Virtual memory was turned OFF; (NO Speed Doubler & NO Ram Doubler)
The connection to Internet was provided via a Motorola CyberSurfer cable modem provided by Hawaii's Oceanic Cable's RoadRunner service.
RETURN to bare feats main page
© 1999 Rob Art Morgan, editor of BARE FEATS
Gotta Question? Comment? Want to advertise?
Email Rob Art at barefoot@hawaii.rr.com