Who is the King of 2D?
(For 3D results, see "King of 3D.")

Updated 5/27/99 by rob ART morgan (barefoot@hawaii.rr.com)
Is the MacTell Vision 3D still the "King of 2D"?
Or can the NEW ATI RAGE 128 board beat it?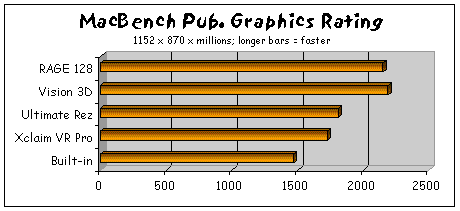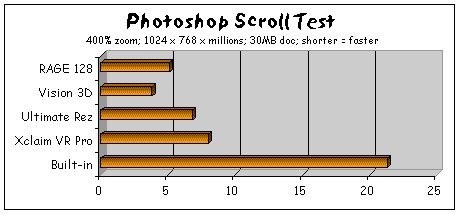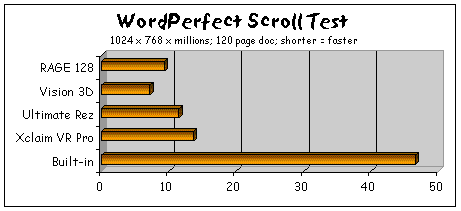 Conclusion: The Vision 3D is still the 2D King.
The ATI RAGE 128 gives it a run for its money, tho.
Other Observations...
I was NOT impressed with the 3D abilities of the Vision 3D. For 3D results from the above three accelerators, go to my newest 3D page.
As you can probably tell, I'm big on graphics accelerators. I can't stand having a fast cpu and slow scrolling or screen redraw. Although the built-in graphics of the 7500 handled MacBench routines decently, it was brought to its knees with Photoshop and WordPerfect scrolling tests.
---
Test Equipment & Procedures
| | | | |
| --- | --- | --- | --- |
| Graphics Accelerator | Bits | Video RAM | Options |
| RAGE 128 | 128 | 16M | (this board is standard equipment on the new Yosemite G3 Minitower) |
| Vision 3D Pro II Lite | 128 | 8M | none |
| ix3D Ultimate Rez | 128 | 8M | both kinds of display connectors |
| Xclaim VR RAGE Pro | 64 | 8M | video in/out ports; supports optional T.V. tuner; supports 16 bit RAVE used in games like Unreal & Quake |
| built-in | 64 | 4M | |
Test Mac was a 7500 with an XLR8 G3 400/200/1M daughterboard from Interex. Mac OS 8.5 with minimal extensions including Open Transport OFF, File Sharing OFF, NO MathLibMoto, NO Speed Doubler, NO Ram Doubler. NOTE: Since the ATI Orion board wasn't shipping as of this writing, the only way to test the RAGE 128 was to use a G3/400 Yosemite Power Mac that comes with it installed.
The MacBench 5.0 suite from Ziff-Davis was used. It's one of the few benchmark applications that closely simulates "real world" usage. You need the CD-ROM to run the Graphics tests. It only costs $5 to order.
Adobe Photoshop scrolling test was run using 4.0.1 DEMO (120MB App size), a 30MB test document, and a stop watch. Results were rounded to the nearest half second. The scroll test was done at 400% zoom; scroll arrow held down while scrolling from top to bottom
For the WordPerfect 3.5.3 scrolling test, I created a 120 page document containing the sentence "The Quick Brown Fox Jumped Over The Lazy Dogs" repeated over and over in paragraphs of 8 sentences each in 14 point Times font. Using a stopwatch, I timed how long it took to scroll from the beginning to the end of the document while holding the mouse button down with cursor over the scrolling arrow. (Font smoothing was turned off. If it's on, it will take you 50% longer to scroll through a document!)
Many thanks to:

Consult Absolute Mac, Deal Mac and my Hot Deals page for lowest prices on the above products.

If you want your own copy of MacBench 5.0 , the CD-ROM costs $5 to order from Ziff-Davis.

Click here for more BARE FEATS speed results
© 1998, 1999 Rob Art Morgan, editor of BARE FEATS
Gotta Question? Comment? Want to advertise?
Email Rob Art at barefoot@hawaii.rr.com